From our Alumni Association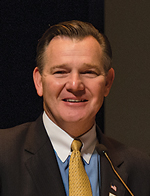 It has been an incredible honor to serve as president of the University of Delaware Alumni Association for the past two years. During this time, I have witnessed first-hand the dedication and generosity of our UD alumni community. You have energized me with your engagement and inspired me with your philanthropy. Thank you.
Indeed, alumni engagement and philanthropy have been a top priority for UD leadership and volunteers. Alumni Weekend attendance has more than tripled in the last six years. Philanthropic contributions have increased by 57% since 2010. The number of alumni who serve as advisors to our deans and leadership, mentor our students, and provide them with jobs and internships has increased dramatically. We are also doing more to take UD to alumni right where they live, through regional clubs and events.
Our momentum is undeniable. I hope you will be a part of this community as we continue to move forward and do even more for UD and our alumni!
In closing, thank you for allowing me to serve as your president. I look forward to cheering on Anne Giacoma Barretta, AS83, as she takes over as president on July 1.
Sincerely,

Kenneth C. Jones 80BE
President, UD Alumni Association