Angels in the Airfield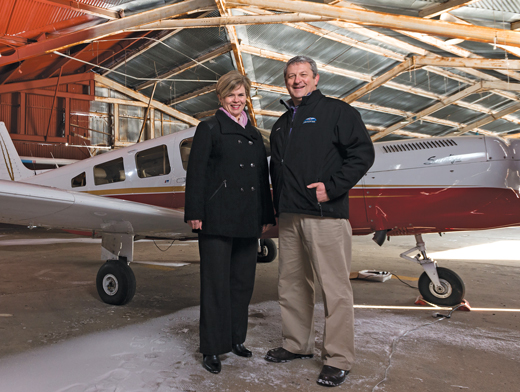 Photo by Kathy F. Atkinson
ALUMNI & FRIENDS | This is a story of connections. Of hope. Of the networks we make and of the angels we meet.
Chris Potter believes in angels.
Diagnosed with leukemia in 2009 and soon in remission, Potter learned his cancer returned two years later, faster, more aggressive, almost fully resistant to treatment. He attempted a "hideously brutal" salvage therapy that summer, but the high-dose drug treatment failed. By November, his doctors advised him to return to his family and spend the remainder of his days with his wife and three children. And so, at age 41, Chris Potter came home, sat in his living room and prepared to die.
It was there, in his Pennsylvania residence, that he learned of a new drug trial in Massachusetts. "There's one spot left," the nurse at the Boston hospital told him. "Can you be here tomorrow?"
He flew to Boston, qualified for the treatment and started the trial that very day. When he finished the IV drip, the doctor smiled and said, "OK, Mr. Potter, we'll see you next week."
"Next week," he asked. "How? I live in Lancaster, Pennsylvania."
Alumni Angels
Knowing that he lived 375 miles from Boston, Potter's friends, relatives and doctors all suggested he look into Angel Flight East (AFE), a non-profit organization run by UD alumna Ellen Williams, AS84, which connects people in need of critical medical treatment with pilots who volunteer their skills and planes to provide free air travel. "Healing should be about getting better… Not getting there," the organization's tag line reads.
For the next four months, AFE pilots flew Potter to Boston each week, where he received the novel drug therapy that would save his life.
"There is no typical AFE patient," says Williams, the organization's executive director.
"We fly people, young and old, who have any number of illnesses or conditions," adds Adam Zucker, AS85, volunteer pilot and president of the AFE Board of Trustees.
With two full-time and two part-time staff members at their Blue Bell, Penn. headquarters, the organization helps coordinate between 300 and 400 medical missions a year within a 28-state area. The 400-plus volunteer pilots who work with AFE—including more than two dozen Blue Hens—use their own planes to fly patients to their destinations, covering all expenses (from $500-$800 per flight) themselves.
Williams likens the organization to a travel agency. To Potter, they're angels.
"My life was saved by modern medicine," he says, "And Angel Flight East."
Article by Artika Casini, AS05