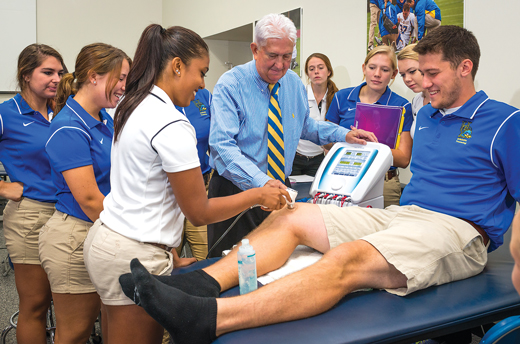 Photo by Kathy F. Atkinson
Handling it all From field to classroom
SPORTS | Keith Handling, HS70, 81, remembers when many of the offensive linemen on the Delaware football team were just over 6 feet tall and weighed only about 220 pounds.
"Now, our running backs are that size," says the new member of the UD Athletics Hall of Fame. "The players are bigger, stronger and faster than when I started as an athletic trainer. They're in the weight room year round."
Handling has had a front-row seat to that evolution. Between 1972 and 2007, he served as athletic trainer at every home and away Blue Hen football game—a streak of 438 consecutive games. He has also taught every student in UD's Athletic Training Education Program since it was launched in 1973.
For the past six years, Handling has worked only in the classroom and not on the field, a career shift that has left him with mixed feelings.
"When I leave the office in the afternoon, and the football team is just going out for practice in the rain, I don't miss that," he says. "What I miss is teaching athletic training students in the classroom in the morning and then working side by side with them in the training room and on the field in the afternoon. It's very rewarding to watch them apply what I've taught them."
Handling started out as a student trainer himself under Hall of Famer Roy Rylander in 1967. He became assistant athletic trainer in 1972 and was promoted to head athletic trainer in 1988 when Rylander retired.
He has also been a faculty member since 1972, and his role as a teacher sparked his lifelong involvement with Delaware Special Olympics (DSO).
"I was teaching an adapted [physical education] class in the early 1970s, and I realized that our students needed hands-on experience with special-needs kids," Handling says. He began taking his students on field trips to local schools, and his interest in this work grew after he attended one of the first DSO summer games.
A DSO board member since 1975, Handling has seen the program grow from fewer than 100 athletes in a basketball tournament to thousands participating in sports ranging from soccer and swimming to cross country and skating. He was also instrumental in working with the University to obtain dedicated space for the program on UD land.
Handling has since received a number of honors for his work with the organization, including DSO Volunteer of the Year in 1995, induction into the DSO Hall of Fame in 1997, and recipient of the Governor's Outstanding Volunteer Award in 1999.
The changes he has seen over the past four decades in the athletic training field include not only the size and skills of the players but also the face of the profession itself.
He recalls a few female students back in the 1970s, when they were the exception rather than the rule. Their numbers grew over time, however, and their presence changed things up in the training room, he says.
The profession has also become much more rigorous and scientific. "Most people don't realize the clinical commitment our students make," Handling says. "Way back when, trainers did things the way they did because that was how it had always been done. Now, we have scientific rationales for what we do, and our students need to know why they should follow a particular treatment protocol before they do it."
As both an athletic trainer and a physical therapist, Handling has worked with a broad range of populations, including not only student athletes but also trauma victims and people recovering from strokes and traumatic brain injuries.
"Lots of physical therapy students want to work with kids, but some of my most rewarding experiences as a physical therapist in the summer have come from working with geriatric patients," Handling says. "They have so many stories to share, and they're willing to work very hard to maintain their independence."
Handling is a dedicated Blue Hen. He earned two degrees from UD, in physical education in 1970 and physical therapy in 1981. His wife, Linda, is also a two-time UD alum, and their two sons, Matt and Tom, and their spouses are also Delaware graduates.
Article by Diane Kukich, AS73, 84M
Read the story about all the new Hall of Fame inductees.