Hens to face top teams in future seasons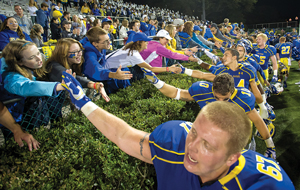 Photo by Mark Campbell
SPORTS | Atlantic Coast Conference opponents will be familiar names on the football squad's schedule in the coming years, UD Director of Athletics and Recreation Services Eric Ziady announced recently.
Delaware has finalized deals with five ACC schools to play road games against teams from that powerful NCAA Division I Football Bowl Subdivision conference over the next six seasons.
The Blue Hens will travel to the University of North Carolina (Sept. 26, 2015), Wake Forest (Sept. 17, 2016), Virginia Tech (Sept. 2, 2017), Pittsburgh (Aug. 31, 2019) and North Carolina State (Sept. 5, 2020).
Pittsburgh, Virginia Tech and North Carolina all played in bowl games following the 2013 season, while Virginia Tech, North Carolina State and Pittsburgh appeared in bowl games during the 2012 campaign.
"It is exciting for us to have the opportunity to play some of the nation's top football programs on our schedule year in and year out," Ziady says. "Playing schools from the ACC gives our student-athletes the chance to compete against some of the top teams in the country, and I know our fans will be excited to see these opponents on the schedule and to visit some outstanding venues to cheer on the Blue Hens."
Head coach Dave Brock also calls the schedule "a great opportunity" for players.
"We look forward to the opportunity to compete annually against some of the nation's best," Brock says. "This will create great excitement for our football team and for all the people who love Delaware football."
Since the 2003 season, the Blue Hens have played eight games against FBS opponents, including Navy and Maryland.
In October, well into their 12-game season, the Blue Hens had a 4-4 record. For updates, visit BlueHens.com.