Conference games tip off early in the new year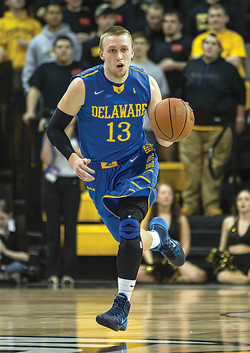 Photo by Mark Campbell
SPORTS | The men's and women's basketball teams begin conference play at home in early January, with each squad scheduled for 18 Colonial Athletic Association matchups this season.
The men's team, coming off the CAA championship last year, opens its league slate vs. Northeastern at the Bob Carpenter Center on Saturday, Jan. 3. The Blue Hen women open their 2015 CAA campaign at home on Jan. 4 against league newcomer Elon.
Both teams began 2014-15 in non-conference, away games—the women on Nov. 14 at Lafayette and the men on Nov. 17 at Liberty.
The schedules as initially announced were preliminary, with all CAA dates and times subject to change based on television schedules. For updates on both teams' schedules and game results, visit www.bluehens.com.
The Delaware men are looking to defend their CAA title after finishing 25-10 overall last year, claiming the league's regular season title with a 14-2 mark and capturing the first CAA championship in school history by winning the league tournament in Baltimore. One highlight of this season is expected when the squad heads to William and Mary on Feb. 14 for a game that will be televised by NBC Sports Network. Delaware closes its regular season on the road at Towson on Feb. 28.
The men's CAA Tournament will be March 6-9 at Baltimore Arena in Maryland.
The Delaware women ended last season with a 20-11 record overall, 10-6 in conference play. In their final home game at The Bob this season, they take on James Madison on March 1. The team will travel to North Carolina to close the season with a contest at Elon on March 4.
The CAA Women's Basketball Championship returns to The Show Place Arena in Upper Marlboro, Maryland, March 12-15.