Restaurant renovations benefit students, customers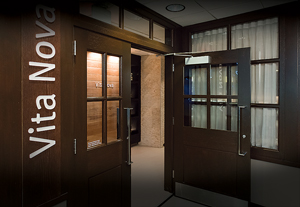 Photos by Evan Krape
ON THE GREEN | Vita Nova, the University's student-operated gourmet restaurant, reopened at the start of fall semester, following an extensive summer renovation that included a complete remodeling of the dining area.
"The old space was well cared for and well loved, but we needed to bring it into the 21st century," says Sheryl Kline, professor and chairperson of the Department of Hotel, Restaurant and Institutional Management (HRIM).
Indeed, the newly renovated Vita Nova now boasts a show kitchen, private dining room, pizza oven and state-of-the-art technology, such as LED mood lighting, sustainable bamboo tabletops and induction cooking technology, in which students warm up buffet meals without an open flame.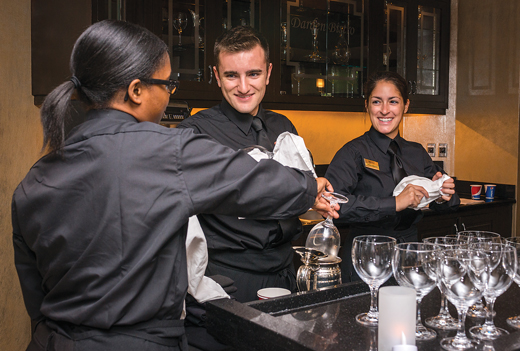 The facility, which first opened in 1996, is the restaurant management classroom for all HRIM major students, giving them firsthand experience in all aspects of running a fine-dining operation. Students rotate daily through 17 different positions that range from handling social media to cooking in the show kitchen to managing the entire restaurant.
It is the strong emphasis on management and leadership development that helps the department boast a 92 percent job placement rate even before graduation, according to Kline. "This is an unparalleled education," she says.
In fact, the Harcourt M. and Virginia W. Sylvester Foundation provided the lead gift to renovate Vita Nova in honor of 2014 HRIM graduate Clare M. Malfitano. The renovations exceeded $500,000 and were supported by other generous donors.
Malfitano's mother, Jayne, is president of the foundation, and the gift is a result of Clare's experience in the program.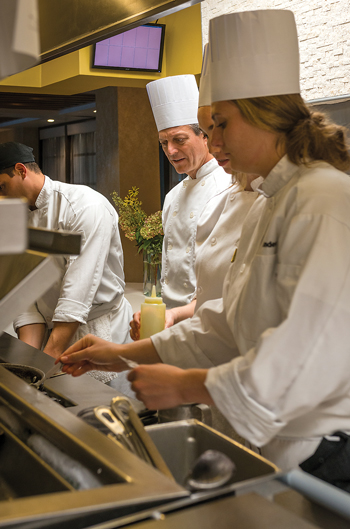 "We felt compelled to do something meaningful for the department that has done so much for our daughter and other HRIM students," says Jayne Malfitano, who, along with her husband, Chris, served as past members of UD's Parents Fund Council.
Kline says the renovations have helped inspire other changes at Vita Nova as well.
"We are so proud to work and teach in this space, and I can already see more creative energy in our approach to trying new things," she says. Among them are new menu items, including fresh and seasonal items from the College of Agriculture and Natural Resources, and a greater emphasis on sustainability.
Students say they've been inspired by the improvements.
"When I walked in there, my jaw dropped," says Rosemarie Pagano, a senior majoring in HRIM. "The renovations are beautiful, and there's now so much more space to work."
Junior Oliver Emsallem praises the efficiency of the space as well as its attractive appearance for diners.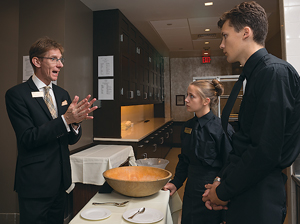 "We have more doors, more area to move," he says. "It's a more practical learning environment—and it's stunning. Customers come in and ask, 'Is this still Vita Nova?' We are all so ecstatic with the renovations."
Sarah Drobnock, a senior in the HRIM program, says all the students working in Vita Nova greatly appreciate the upgraded facilities. "I love the new modern look and feel," she says. "It's contemporary, very 21st century, Napa Valley chic."
More about the restaurant and HRIM
Vita Nova offers a "Best of Delaware" Award-winning lunch buffet, fine dining for dinner, the Darden Bistro and the Copeland Vinotek, a redwood-paneled wine cellar. The restaurant is open to students and the public.
It is a key part of HRIM's focus on experience-driven learning and the business of hospitality. Along with the Marriott Courtyard Newark hotel, Vita Nova prepares students to distinguish themselves as successful leaders and entrepreneurs in the hospitality industry.
The HRIM program offers numerous opportunities for international study and requires undergraduates to complete both paid work and community service in the field.
About the Parents Program
The Parents Program creates a community of parents actively engaged in their students' college experience and provides the primary vehicle for them to philanthropically support the campus.
Article by Artika Casini, AS05