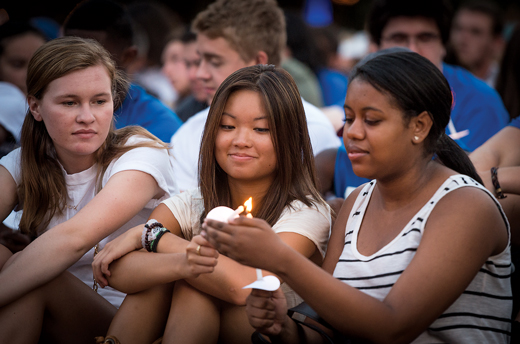 Photo by Kathy F. Atkinson
Newest students bring talent, diversity to campus
ON THE GREEN | Members of the Class of 2018—more than 4,000 students selected for admission from a near-record number of applicants—arrived on the UD campus in late August to begin their academic careers and Blue Hen experiences.
"Our fall recruitment efforts produced the second-largest applicant pool in UD history, at 26,461, a 2 percent increase over last year," Jose Aviles, director of admissions, told the University's Board of Trustees in a May report on the Class of 2018. Applicants came from 48 states and 82 countries, including over 3,000 applicants from Delaware, he said.
"Our story this year is one of extraordinary change," Aviles said. "I believe our new direction has set the foundation for us to continue our journey in the interest of achieving greatness."
Globe-spanning efforts included first-time recruiting visits to India and Pakistan, with continuing efforts in the Middle East, Latin America and Canada. The result was a 43 percent increase in domestic applications and a 61 percent rise in international applications.
Diversity efforts included reaching out to low-income, first generation students, as well as the most talented international applicants, Aviles said.
Of the 4,179 freshmen on campus this fall, 26 percent are members of minority groups. The class includes 1,264 Delaware residents; 92 percent of in-state applicants were offered admission to UD, 70 percent to the Newark campus.
When this year's new Blue Hens arrived on campus, they found students, faculty, staff and administrators on hand to help them and their families move their belongings into the residence halls. Complimentary refreshments at several dining halls and outdoor grills and beverage stations were among the amenities offered during move-in weekend.
Students also were able to take part in a full range of activities during the weekend, including a reception for incoming commuter students and the annual Campus Breakout hosted by the University Student Centers. Students could visit an "open gym" at Carpenter Sports Building and check out more than 300 registered student organizations at Activities Night.
The evening before fall classes began, new students participated in a Twilight Induction Ceremony welcoming them to campus. The event was followed by an ice cream social and a pep rally.