Public Allies honored for community impact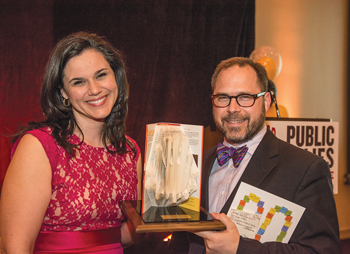 Photo by Doug Baker
Public Allies Delaware, a program of UD's Center for Community Research and Service, has won the National Impact Award, the highest honor awarded among the 23 regional networks.
The Delaware chapter, which also celebrated its 20th anniversary this spring, was recognized for its ongoing and consistent effort to help program participants turn their 10-month apprenticeship experiences into long-term community contributions.
"These young leaders are highly self-motivated," says Tina Morrow, director of Public Allies Delaware. "Our job is to hold them accountable to their dreams and aspirations and support their creativity, energy and passion."
The state organization also was presented the Alumni Engagement Award for model programming in communications and professional development support.
Public Allies Delaware began its journey when founders Suzanne Sysko, M.D., and Tony Allen, who holds a bachelor's degree and doctorate from UD and is a member of the University Board of Trustees, set out to have an impact in the world and decided to start with their own community.
Allen and Sysko say they "were a part of a burgeoning national movement called the Corporation for National Service," also known as AmeriCorps, a bipartisan concept that has produced a variety of programs. Delaware was one of five original Public Allies sites including one in Chicago, which was founded by Michelle Obama.
Since its founding, the nearly 400 alumni of Public Allies Delaware have completed more than 750,000 hours of service to communities in the state and beyond. The program provides young leaders with training and professional apprenticeships at local nonprofits.
Many Public Allies alumni are also UD graduates, and many have gone on to lead nonprofits in Delaware and around the nation.