Creamery experience rises to the top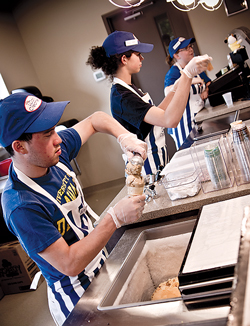 Photo by Danielle Quigley
Two UDairy Creamery representatives were honored as 2014 White House Champions of Change for their work providing hands-on learning experiences for young people in agriculture.
Melinda Litvinas, manager of the creamery, and Jake Hunt, AG12, who as a student was an assistant manager intern there, were among 15 individuals from across the country receiving the award.
With the average American farmer 58 years old, the U.S. Department of Agriculture is looking for ways to inspire and motivate the next generation. Honorees spent two days in Washington, D.C., participating in a variety of educational programs and tours.
The UDairy Creamery, established in 2008, produces premium ice cream made with milk from the cows on the farm at the College of Agriculture and Natural Resources. Founded on science, sustainability and entrepreneurship, the creamery encourages discovery learning, with students involved in every aspect of making and selling ice cream.
Some students work directly with the dairy farm. But, Litvinas says, "Most UDairy Creamery students are involved in the food science, food safety, product development and entrepreneurship aspects of the creamery."
Hunt is now the managing partner at Windy Brow Farms and the Cow's Brow Creamery in Newton, New Jersey.