From Our Vice President of Development and Alumni Relations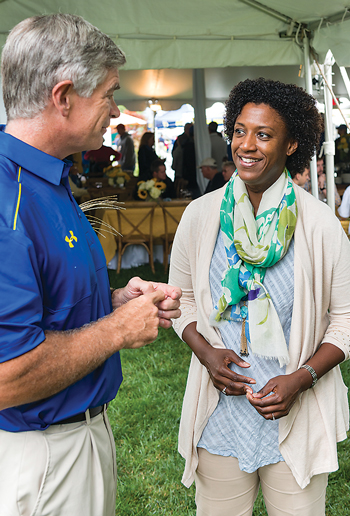 Alumni engagement is paramount to the success of a university and its advancement. UD is no different. Your participation in the life of this institution is one of our top priorities. We want to know you. We want to welcome you back to campus. We want you invested in the future of your alma mater. Messenger magazine is an integral part of this mission. Through this publication, we share with you not only stories about your fellow alumni, but also daily strides the University is taking in the areas of education, research and teaching.
I've had the opportunity to work with President Harker for the last seven years, and in that time I've learned that his vision for UD is big and it is inspirational. You can't walk around campus without noticing some of his vision actualized—in state-of-the-art buildings, in new residence halls, in an entire campus devoted to hands-on, collaborative learning. Within those spaces are classrooms, technologies, students, professors—individuals—who are defining what these areas mean and, in the process, redefining the entire University.
In his own words, in our collection of photos and in a Q&A with UD's very own best-selling author and professor Mark Bowden, we share with you his perspective on higher education, the University of Delaware and his role as president.
It's an exciting time for UD, and we're thrilled to share some of that excitement with you in this issue of Messenger.
We feature our 40-year-old graduate program in art conservation that teaches students the techniques for preserving some of the most iconic markers of our cultural heritage—from original works of Picasso to Dorothy's ruby slippers. You'll also read about our student-operated gourmet restaurant, Vita Nova, which is newly renovated thanks to a generous gift in honor of a recent alumna of the Hotel, Restaurant and Institutional Management program. And, of course, you'll read updates on your fellow Blue Hens, including career successes, marriages and baby Hens!
This magazine is all about keeping you connected, from our class notes to our alumni profiles. We want to keep you informed, but even more, we want to keep you excited. And above all, we want to keep you engaged. As we look ahead, we know that our greatest strength is in our people, in this incredible community. Together, we do incredible things!
Monica M. Taylor
Vice President, Development and Alumni Relations