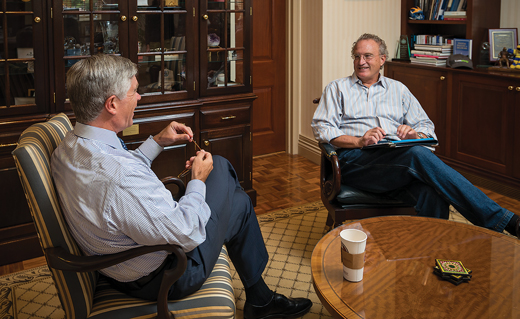 Photo by Kathy F. Atkinson
10 Questions with President Patrick Harker
Patrick Harker arrived at the University of Delaware in July 2007 and hit the ground running. From a strategic plan that led the University on a Path to Prominence to a campus expansion that is changing the face of UD, Harker is focused and energized about elevating both the image and the trajectory of the University.
1 | Your History
MB: Tell me about your childhood. What did your folks do when you were growing up?
PH: I grew up in Gloucester City, New Jersey, a town at the end of the Walt Whitman Bridge. I was the youngest of three. My father was a pipefitter. My whole family was pipefitters—welders and pipefitters. I can still sweat a pipe, and I can still do a little welding, if I need to! Anyway, my father was ill for several years. When I was 9, he passed away. My mother, who was a stay-at-home mom at the time, got a job in the city tax office. She was there for many years. I think she chose that because it was a nice stable job, plus it was close to our school, so if something happened she was always there. She still lives in the house I was born in.
2 | Outside of the Office
MB: What is your favorite hobby?
PH: An old neighbor of mine got me into woodworking. I've always liked working with my hands. It's a way that I can relax, and I like building things. So I guess I'm an engineer at heart, right? I've made everything from our bedroom set—the whole bed and nightstand—down to little gifts for people. I made our Adirondack chairs and customized lamps that look like the lifeguard stands in Ocean City, New Jersey.
3 | Our Past
MB: You have been president for over seven years now. How has the University–and the perception of it–changed since then?
PH: The University's reputation was rising before I arrived. In my time here, we've been working to enhance our visibility externally so more people know about us and the achievements of our faculty and students. Just as we're dedicated to improving the quality of what we do, we're also looking for every opportunity to tell people what we're doing—including getting our alumni more engaged and active. Also, we are now known as a real value in higher education. When families ask, "Where can I get a high-quality education at a reasonable cost?" Bam! University of Delaware.
4 | Our Present
MB: Are you happy with where we are right now at the University?
PH: I'm happy but not complacent. Author Tom Friedman has this interesting line that rattles around in my head. He said to "act like an immigrant." He meant that most immigrants who come to this country are paranoid optimists. I love that. They are paranoid because they don't know if it's all going to work out, but they are optimistic because that's why they came here. I think that's exactly how you have to manage a university. You have to be optimistic about what we're doing with this next generation flowing through our halls. They're an incredible group. But you have to be a little paranoid, too, about those changes, those forces that are upon us and how we adapt to them.
5 | Our Future
MB: What does the future look like for UD?
PH: I see that as being a big part of my role. The day-to-day keeping the trains running—there is a great team of people here to do that. My role is about looking further ahead and making sure the University is well positioned for our future. That includes building a system that is flexible and adaptive. You're not going to be able to perfectly predict the future. So you need to have agility in order to seize those opportunities when they come. We need to make sure the education we're providing to this next generation of students is going to serve them throughout their lifetimes. There are changes underway in technology that are impacting all facets of life. Are our students ready for that? Are we spending enough time making sure students are true critical thinkers? Are they adaptable? Are they resilient? Are they agile—mentally, intellectually, emotionally agile—so they can adapt to these things?
6 | Philanthropy
MB: I know you're in the early stages of a major fundraising effort. What is the goal of the campaign?
PH: The goal is really threefold. One is to actively re-engage the alumni in the life of the institution. We need them not only for philanthropic support but also to open doors, whether it's for faculty research or internships or jobs for students. It's thinking about how they can connect and give back. Second, this campaign will set the University up for a different future. The goal is not just to raise money; it's to create a culture of support that will maintain and build momentum long after this campaign is over. The third piece is that we have some critical needs for student scholarships, endowed professorships, facilities, new programs and more.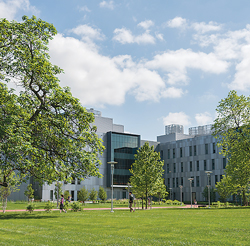 Photo by Evan Krape
7 | Faculty Research
MB: Faculty research is a big priority for UD. What are the big strides we've made in this area in the last few years?
PH: Our sponsored research dollars have jumped dramatically. I give the faculty tremendous credit. In an era of declining federal support for research, we're growing. Faculty are great at what they do, but there is a lot of "great" out there. You have to have more. What that is is hustle—being really willing to work hard and to compete. Today, we are at about $138 million in sponsored research at UD, up 33 percent since 2008. Acquiring the STAR Campus site was a game-changer. It allows for University research and development to spin off into entrepreneurial and business efforts. It also gives our students real-world opportunities to do internships without going very far. Increasingly, employers want to know students can get something done. But really the only way you can prove you can get something done is to have done something. Students are getting a great educational experience that's not in a traditional classroom.
8 | New Development
MB: The ISE Lab is such a big showcase for the integration of research and teaching. Why was it important to build?
PH: The Interdisciplinary Science and Engineering Laboratory is important for several reasons. It's the first new science building here in over 20 years. It gave us an opportunity to really highlight what the University has been doing and has led for decades now—which is problem-based learning. Dean George Watson and his colleagues in the College of Arts and Sciences have not only been doing it; they've been studying it. We know it works. So this gave us an opportunity to create a really different environment to teach not just the sciences but all classes, including humanities and social sciences. It's truly interdisciplinary. On the research side, if we're going to maintain the University's strength in the STEM disciplines—and as a result the state's strength in these disciplines—we needed to add that research capability.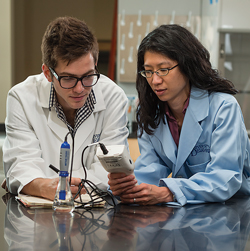 Photo by Kathy F. Atkinson
9 | Government Relations
MB: Congratulations on your new position with the Department of Homeland Security! What is your role?
PH: It is a two-year appointment to the Homeland Security Academic Advisory Council. We are there to give advice to the secretary on a variety of issues. One of the committees I'm on is cybersecurity. And again not only in terms of cybersecurity for universities, but how universities are developing programs and so forth to meet the growing need for cyber professionals in the country. This is a natural for us. We launched the UD Cybersecurity Initiative to become a significant hub for bringing together the government and the private sector in solving not only the technical issues, but the policy issues as well. We want to make a major push in this area, so we might as well be involved in setting the priorities.
10 | Being President
MB: This is your first university presidency ... maybe your last. [laughter] What is something that you would not have anticipated?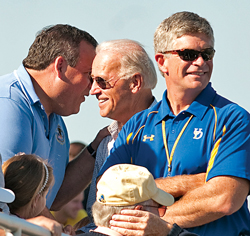 Photo by Bob Bowden
PH: The pace. Beyond policy and projects, it's just the pace. It's a very public, 24/7 kind of job. I remember walking into the Acme on Elkton Road during my first month here. As I turned the corner with my cart, a woman was standing there and dropped a glass bottle when she saw me. She started stammering, "What are you doing here?" I said I was shopping. "You shop?!" That is when I realized how public I was! In Delaware, given the prominence of the University, you're very recognizable.
One Last Thing…
MB: So if it comes down to Biden and Christie, who are you voting for?
PH: [laughter] That's a good question. Well, from the moment I walked into this state and registered to vote at the DMV, I have been a registered independent. So you'll just have to wait and see.