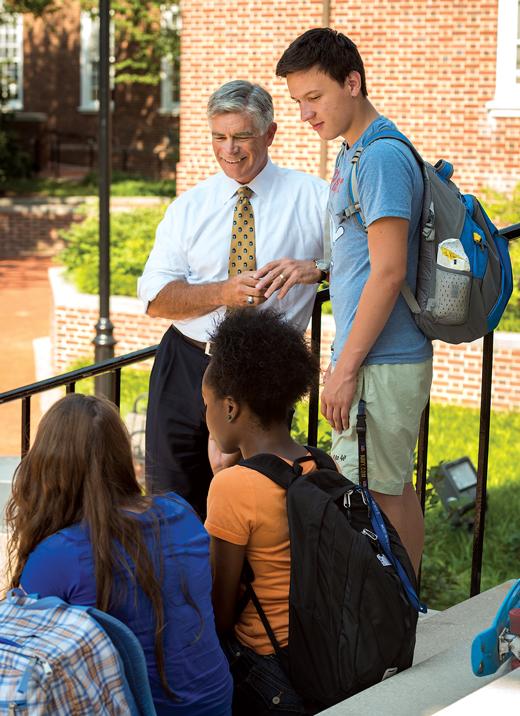 Photo by Kathy F. Atkinson
Making Sense of Higher Education's Future
An excerpt from Patrick Harker's upcoming essay published in Service Science
This year, the University of Delaware attracted one of the largest, most diverse and most academically talented applicant pools in our history, evidence that top-notch students and their families recognize the value of a UD education. Our research enterprise is world-class and growing, and our partnerships give students vital hands-on experience to help them succeed in their careers. Fundamental challenges, however, lie ahead for UD and all universities. In this condensed excerpt from a forthcoming journal article, Harker explores the forces confronting universities and lays out a likely path of change.
The cost of higher education is being criticized from all quarters. Enrollment is declining, government help is headed in the same direction, and an increasing number of applicants need financial aid. Some commentators feel that moderate reforms over time would address the problem, while others, and I include myself in this group, feel that the modern university needs significant change. We need to rethink both our mission and our methods.
Why does this debate matter? The university has historically played a crucial role in shaping our society, preserving our culture and, increasingly, driving innovation in all disciplines. Despite its current problems, the university remains the critical rung on the ladder to the middle class in this country and is increasingly so in developing countries all over the world. Even as the number of college-age students in America declines, worldwide demand for a university education grows and grows.
All colleges and universities are pitching the promise of critical skills to learn how to learn for a lifetime; this is their value proposition. So how are we doing on designing the university to deliver it?
Consider the typical college campus. Classes are scheduled three days a week for an hour each day, twice a week for one and a half hours, or once a week in three-hour blocks. Room assignments are optimized to fit these scheduled slots. In sum, the entire system on a college campus is designed to optimize teaching.
Instead of engineering teaching-efficient factories, we need to engineer learning-efficient ones.
Before we dive into the daunting task of becoming learner-centric by re-engineering processes, let's first ask the question of what we want the students to know.
To answer this question, consider the recent book by Erik Brynjolfsson and Andrew McAfee entitled The Second Machine Age. In a provocative chapter, they ask the question that we as humans are often afraid to ask: Namely, what do humans do better than computers today and in the foreseeable future?
They refer to the ability of humans to come up with truly new and useful ideas, "out of the box ideas" as it were. Recognizing the interaction of the complex technical, cultural, economic, social and political aspects of a situation (i.e., seeing the "big picture") is what they mean by large-frame pattern recognition, and computers are simply not very good at putting all these pieces together. Lastly, machines still have a long way to go before they can understand all of the nuanced verbal and nonverbal communications that humans conduct effortlessly.
First, the curriculum, at least the core and possibly more, will need to be designed and not left to either the political wheeling and dealing of the faculty or historical inertia. It will need to focus more than ever on the critical skills outlined by Brynjolfsson and McAfee.
And scale is the second key aspect of the curriculum. In order to get costs under control, we need to achieve economies of scale and not deliver the entire curriculum via a series of boutique courses.
Presidents, provosts and deans come and go; the faculty need to own and drive this change, and need to be convinced that the forces of change discussed herein are, in fact, real.
Universities are vital to our societies, and we need to act decisively to assure their long-term sustainability. We are well past the need to define the problem, and we simply do not need any more heated rhetoric pointing out the issues that universities face today and in the future. What we need is a plan of action and the will and resources to make these changes a reality.
Read 10 Questions with President Harker.
View Presidential Perspective, a slide show giving a glimpse at the everyday responsibilities of President Harker.