Dan Wessel, BE12, and Evan Wessel, BE12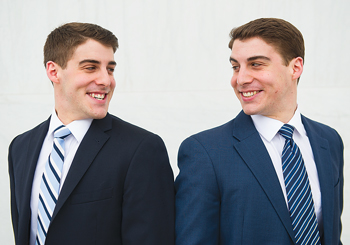 Richard Bloom
ALUMNI | Dan and Evan Wessel—encouraged by their parents—always strived to develop and maintain separate activities and their own individuality, but the identical twins couldn't get away from their shared interests, which led them both to UD and to majors in economics.
"We try to be as different as we can, but we just happen to be involved in the same stuff," Dan told the National Journal, which published a story about the Wessels last spring. "They [our parents] tried their hardest, but look where we are."
Where they are is living in the Washington, D.C., area and working in politics. And not just politics, but for political organizations—two different ones—both raising money for a potential presidential campaign by Hillary Clinton. Dan works as a press assistant for Correct the Record, while Evan works on digital communications at Ready for Hillary.
The two super PACS are separate, and the Wessels work in offices a few miles apart, but that doesn't stop other staff members and even politicians from occasionally confusing one twin for the other when they encounter them around Washington.
Their father was a longtime political aide, but the Wessels first got involved in a campaign while at UD, when they both volunteered for the Delaware Democratic Party in the 2010 races. When they graduated and looked for congressional jobs, they say, Dan applied only to the House of Representatives and Evan only to the Senate so that they wouldn't be competing with each other.
And, Evan says, their separate career moves to pro-Clinton groups were not something either of them planned.