Michele Walfred, AA04, AS07, 14M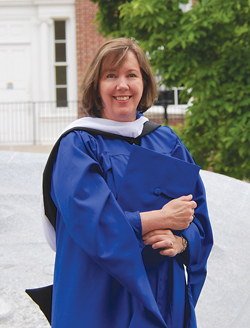 ALUMNI | Michele Walfred, a communications specialist in the College of Agriculture and Natural Resources, became a proud third-time UD graduate last spring when she earned a master of arts in liberal studies (MALS) degree. 
But Walfred's Blue Hen story began much earlier. As an English major in the 1970s, circumstances forced a break in her studies long before she could complete her degree. When both of her parents became ill, she turned to family responsibilities full time.
"Then I got engaged and married, and life just happened," Walfred says. In 2001 she began working for UD Cooperative Extension in Georgetown, Del., as a receptionist. When her daughter started taking courses in the Associate in Arts program, Walfred decided to join her.
"I think working in a college environment had a lot to do with it," she says. "I saw this terrific opportunity to accomplish something I had left behind, and I went for it. One course at a time, it fell into place."
In 2004, she earned her associate in arts degree, and a few years later, both she and her daughter, Kathleen Mack, graduated with bachelor's degrees. This May, Walfred completed the MALS program, which emphasizes a multidisciplinary approach to broad questions about culture, ethics and human experience. "MALS is a diverse, challenging program that has changed the way I perceive and approach everything," says Walfred, who was advised by English Prof. Jean Pfaelzer on a thesis project delving into the social and political significance of Thomas Nast cartoons depicting Chinese Americans.