Russell Snyder, AS84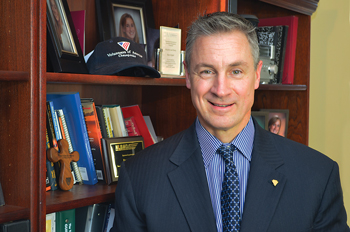 courtesy of Volunteers of America Chesapeake
ALUMNI | The nonprofit Volunteers of America Chesapeake has been assisting those in need since it was founded in Baltimore, Md., well over a century ago and is a branch of one of the nation's largest and most comprehensive human services organizations.
But since January 2009, supporters say, the agency has greatly expanded its programs and visibility under the leadership of Russell Snyder, AS84, who earned his UD degree in economics. He previously was senior vice president of client management for Smith Bucklin Corp., the world's largest association management company, where he oversaw business trade and healthcare associations.
As president and CEO of Volunteers of America Chesapeake, the organization says, Snyder "has led the successful turnaround and growth of a $23 million, 650-employee human services nonprofit serving over 9,000 vulnerable men, women and children in Maryland, Virginia and the District of Columbia."
The organization, founded in 1896, today operates 31 programs that focus on such groups as the homeless, those with mental illness or intellectual disabilities and individuals recovering from addiction. Among other projects, it recently opened a 52,000-square-foot Residential Re-Entry Center that offers services to federal ex-offenders and provided school supplies to thousands of children and access to a new computer lab for students in the organization's supportive housing program.
"Russ has done great things here," says staffer Alfonso Cole, AS78. "He's one of those people who makes me even prouder to be a Blue Hen."