Resilience and reconciliation in Rwanda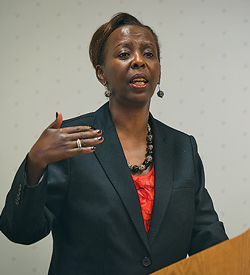 ALUMNI | "This is a homecoming for me," said Louise Mushikiwabo, AS88M, minister of foreign affairs and cooperation for the Republic of Rwanda, when she gave a talk on campus in October.
Accompanied by Mathilde Mukantabana, Rwanda's ambassador to the United States, Mushikiwabo spoke about social cohesion, resilience, reconciliation and moving forward in her nation.
Twenty years since Rwandan genocide, the country has taken great strides politically and socially to rebuild, she said, adding that learning to live together as human beings has been the best approach to conflict.
"I am very proud of my country," she said. "The people of Rwanda have made serious sacrifices so we can get back together as a people and a country."
Rwanda, which is slightly smaller than the state of Maryland, is a land-locked country in East Africa whose main exports include coffee and tea. It has recently begun investing in infrastructure and energy.
"We are working to provide economic opportunity mixed with our own home-grown solutions based out of our own communities," Mushikiwabo said.
Rwanda has a collaborative tourist zone with Kenya and Uganda, and plans to be a middle-income country by the year 2020 through its Vision 2020 plan. Sixty-four percent of Rwandan parliamentarians are women, the highest proportion of any parliament in the world, and the country is a part of the U.N. Security Council.
"We want to contribute to a peaceful world in a meaningful way," Mushikiwabo said. "Social cohesion is key."
She told her audience at UD that a combination of parliamentary and modern law has contributed to a reconciled nation. In December, an annual meeting provides an opportunity for the government and the people to talk to one another, figure out where they stand as a nation and allow people, not just politicians, to become a part of the discussion, "One way to keep people with a sense of belonging is to give an opportunity to everyone in the same way," Mushikiwabo said.
Creating a culture of efficiency and openness, government reforms, social cohesion and an appreciation for cultural values, she said, have helped transform and rebuild Rwanda since the 1990s. She said a sense of community has been restored throughout the country, which has created opportunities and contributed to the successful transformation of the country.
Article by Elizabeth Adams, AS13