A prescription for better health care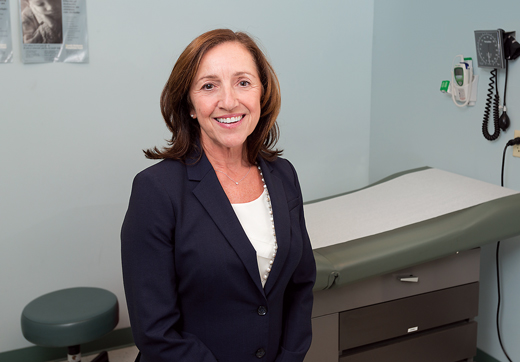 Photo by Evan Krape
ALUMNI | When Lolita Lopez, EH76, 81M, signed on in 1990 to head Westside Family Healthcare, the nonprofit had a budget of $340,000—enough to get it through the next 18 months.
"They were about to run out of money," says Lopez, who stepped in as the fledgling group's fourth executive director in two years. "My personality is: Take on a problem, find a solution, and help it grow."
Today, Westside provides comprehensive health services to underserved communities at six sites in Delaware, with a budget of $17 million and 230 employees, up from the 3.5 original positions. Among those employees are four former interns from UD's School of Public Policy and Administration. The organization also provides training for UD nursing students.
The centers field 100,000 visits each year from 27,000 patients, Lopez says. It's a far cry from the 1,300 annual visits to Westside's tiny first clinic in the Adams Four Shopping Center, just blocks away from today's flagship building on West Fourth Street in Wilmington. To put that into perspective, consider that Westside physicians and nurses help deliver 600 babies each year, according to Lopez.
From head cheerleader at Dover High School to CEO today, Lopez always has taken the lead.
"Every job I took, I kind of ended up being in charge," she says. "I guess it's my personality."
When she enrolled at UD in 1971, Lopez planned to become a teacher. Upon graduation in 1976, she found jobs to be scarce and accepted a position as a teacher's aide with Head Start. "My father screamed," she recalls with a laugh. "I've always been attracted to nonprofits in underserved communities."
But Lopez was disturbed to see the program's hard work with its students erode over the weekend. "The parents weren't continuing the discipline," says Lopez, the youngest of four children born to Spanish immigrants.
So she got involved with Home Start, undergoing training in the hills of West Virginia. She learned how to bring the classroom into the homes of parents with preschoolers, and show them how to teach their children.
"We'd sit there at the kitchen table, and I'd show them how to teach shapes to their children," she says. "We worked on nutrition, and lots of social services. I became very interested in social work."
Lopez returned to UD, where she enrolled in a graduate counseling program that allowed her to work full time while earning her degree in 18 months.
Following leadership positions at Children's Beach House—a residential program in Lewes, Del., for children with special needs—and the Boys and Girls Clubs of Delaware, Lopez set her sights on an executive director position.
"I got very interested in policy. How do you effect change? Through policy," she says.
She looked around for a small organization that would allow her to learn and develop the management and financial skills she needed to round out her resumé.
At the time, she'd never heard of Westside. Now, "I hope to retire with Westside—though they may have to push me out," says Lopez, 61, who lives with her husband, Donald Jesse, in Middletown, Delaware.
These days, much of her job is political, and she works closely with Delaware's congressional delegation. "I've been called during a vote on The Hill: 'Lolita, what do you think?'" she says.
Her work hasn't gone unnoticed.
In 2006, she became the first Hispanic honoree in the Delaware Women's Hall of Fame. In March, Lopez was inducted into the Grassroots Hall of Fame for the National Association of Community Health Centers.
She is proud of one recognition in particular: On the 20th anniversary of her employment, she was honored with the creation of the Lolita Lopez-Jesse Endowment for Westside Healthcare through the Delaware Community Foundation, with initial funding of $100,000.
The endowment will serve as a safety net to support operating costs, which are the trickiest funds to raise, she says.
"Hopefully, that will grow, and people will remember me," Lopez says. "That's pretty special."
Article by Suzanne Sczubelek Herel, AS89