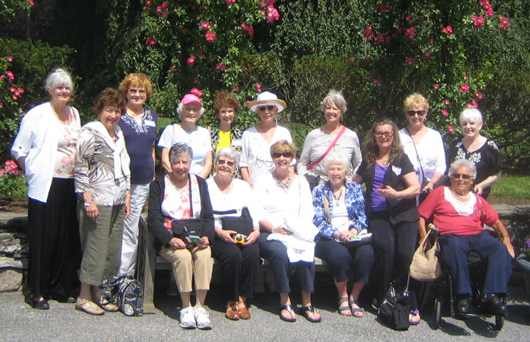 Celebrating 55 years of friendship
Earlier this year, Laurie Bliss Krebs, EH59, wrote this account of a group of UD classmates who have found a way to keep in touch for more than half a century.
"Closeness isn't always measured in distance; friends can live many miles away, but the bond of love formed long ago always keeps them close at heart."
—Nishan Panwar
ALUMNI | In June of 1959, a group of 20 or so Delaware women resolved to keep in touch after graduation. They knew marriage, jobs and children would make getting together difficult, so they began a Round Robin letter that traveled wherever the women lived. There were no emails, IPhones or social media to hasten the letter's 12-month journey, but the connections remained strong and gradually lengthened into lifelong friendships.
As women of the '50s, their options were mostly limited to traditional roles. The largest number graduated with education and home economics degrees, (now the College of Education and Human Development) while Arts and Sciences majors came next. Just a few graduated in other disciplines.
Years passed and women's roles changed. The group branched out into a wide variety of leadership positions. Many earned advanced degrees. They joined the work force as public school teachers and college professors; curriculum developers and published authors; business owners and community leaders; real estate agents and nonprofit administrators. They won awards for their contributions and excellence in their fields. And during this time, their friendships continued to flourish. For the members' 50th birthdays, they celebrated with a grand reunion in Bethany Beach, Delaware. The group now numbered more than 25 as other UD women joined the sisterhood. Most of their children had grown and moved away so the women now decided more regular reunions were possible. Ensuing years brought them together in New York City; Connecticut; Vermont; Williamsburg, Virginia; Bethany Beach; and Cape May, New Jersey.
This year, 55 years after graduation, 18 of the women gathered at the Inn at Wilmington. They traveled from Texas, Colorado, Illinois, Florida, Maryland, Vermont, Virginia, Pennsylvania, New Jersey and, of course, Delaware. It was a time to share memories and photographs, conversation and laughter, but especially, it was a time to remember with gratitude the lifelong friendships that proved "closeness isn't always measured in distance."
Those attending the reunion, all Class of 1959, were:
Biasotto, Ginger Lanier
Carr, Rosemarie LaPera
Dick, Louise Lattomus
Fahey, Charlotte Kunz
Gregg, Jan Hedreen
Handley, Jane Persons
Hoffman, Connie Alexander
Knight, Ginny Paul
Krebs, Laurie Bliss
Levine, Vaughan Gordy
Mavrotis, Gail Veasey
Meucci, Gail Kauffman
Murray, Joan Owens
Niebart, Marilyn Cook
Priestley, Karen Reath
Scott, Mary Lou Drewes
Smith, Jane Lotter
Taitt, Nancy Paul