NFL injuries all in a day's work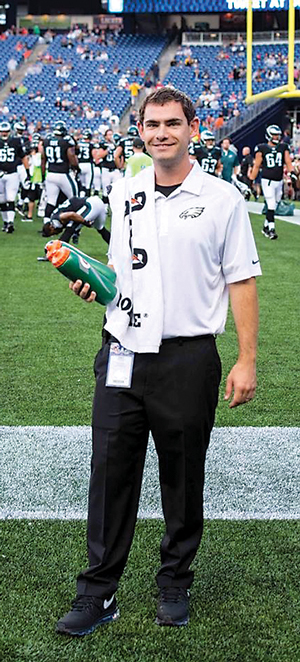 ALUMNI | The first few weeks of the 2014 NFL season saw stars like Robert Griffin III, Ryan Mathews and Dennis Pitta go down with play-stopping injuries.
Athletic trainers are usually the first professionals on the scene when players are hurt on the field, and a number of UD athletic training alumni are among their ranks. Many students in the program, through internships and employment, also have had a front-row seat to the treatment of injuries in the NFL.
"We've developed such a good relationship with NFL teams over the past decade that we're sending eight to 10 students out every year," says Tom Kaminski, professor and director of the Athletic Training Education Program. "Some of them have been invited back all three years by the same teams."
One of the two alumni currently working as full-time NFL athletic trainers is Steve Feldman, an assistant trainer with the Philadelphia Eagles, who graduated in 2010 and then went on to complete a doctor of physical therapy degree at UD as well.
"The Athletic Training Education Program provides its students with the highest level of fundamental background knowledge and skills required at the professional level," says Feldman, who joined the Eagles in 2013. "As a freshman I saw three students participate in NFL training camp internships, and I knew immediately that I wanted to do that too. The summer before my junior and senior years, I spent in training camp with the Seattle Seahawks, where I sharpened my skills and made lasting friendships."
Other alumni working with the NFL are Jon Hernandez, HS10, full-time assistant trainer with the Buffalo Bills, and full-time seasonal interns Harrison Grube, HS12, Seattle Seahawks; Corey Lopez, HS11, Chicago Bears; and Uriah Myrie, HS11, Buffalo Bills.