Buffett and Berkshire
Law professor lectures on corporate culture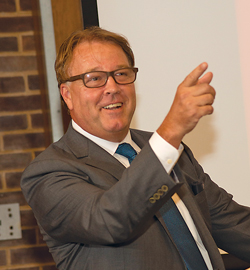 Duane Perry
ALUMNI | Lawrence Cunningham, BE85, a professor of business law at George Washington University and the author of the bestseller The Essays of Warren Buffett: Lessons for Corporate America, returned to UD this fall to speak with students and faculty.
A leading authority on corporate governance and culture, Cunningham earned his bachelor's degree in economics at UD in 1985 and his law degree at Yeshiva University. His lecture, part of the Lerner College's Chaplin Tyler Executive Leadership Series, was also his first stop on a 15-campus tour for his new book, Berkshire Beyond Buffett: The Enduring Value of Values.
"It's a great honor to return to my alma mater," he said during his talk in Purnell Hall. "I studied across the street at Morris Library, enjoyed the great dorm life at UD and, of course, engaged in many erudite debates over beers at the Deer Park Tavern."
The University, Cunningham said, is in an ideal location because of Delaware's status as the corporate capital of the United States.
"From an early age, that corporate life got into my blood," he said. "This led to many fascinating studies, including that of Berkshire Hathaway."
Cunningham has become a leading authority on Berkshire, the fifth largest corporation in the nation, as well as its CEO, Warren Buffett. He calls the company a microcosm of corporate America, providing an opportunity to examine topics in business, from accounting and investing to management and leadership.
Many observers believe that Berkshire is so associated with Buffett that the company won't survive without him, Cunningham said, but his own research has led him to a different conclusion.
"Buffett's most important achievement, beyond vast fortune and generous philanthropy, is building an organization that is larger than himself," he said. "It's true that Buffett epitomizes Berkshire, but it's far from a one-man show."
Article by Sunny Rosen, AS15