ALUMNI BULLETIN BOARD
From our Alumni Association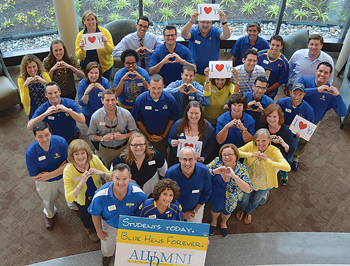 I love the opportunity to talk to other alumni, students and friends of the University about the many ways one can give back to UD.
Volunteering is a great example of how alumni can give back and stay involved after graduation. Serving on a regional alumni club board, coordinating events for Blue Hen Cities, volunteering with the UD Alumni Association (UDAA), serving on a reunion committee or college advisory council, assisting at student events and mentoring students are just some of the ways Blue Hens can lend a hand.
UD alumni flock together all over the U.S. and the world. From sporting events to career networking get-togethers to cooking demonstrations, a wide variety of activities are planned to attract all Blue Hens. UD Regional Alumni Clubs have a formal volunteer leadership structure and are charged with planning events and engaging Blue Hens in their area. Blue Hen Cities represent areas and regions with a more casual structure, usually with a smaller alumni population.
The UDAA is managed by a volunteer board of directors, which consists of three officers, 24 directors, members at large and the immediate past president. The UDAA works to ensure that all current and future alumni have a fulfilling, lifelong relationship with our great University. The full board meets on campus quarterly, and the various committees meet periodically to carry out their work, often via conference calls.
The relationships built through serving your alma mater will last a lifetime, and I encourage all Blue Hens to look into which area of service fits your particular passion. To learn more about the many volunteer opportunities available, visit UDconnection.com or email alumni-association@udel.edu.
Sincerely,
Kenneth C. Jones, BE80
President, UD Alumni Association
#BlueHensForever
Plan now for Lovebirds Contest
This Valentine's Day, the Office of Development and Alumni Relations wants to once again meet and celebrate Double Dels—married and civil union couples where both partners are UD graduates—through its Lovebirds Contest.
All Double Dels are encouraged to start planning now for a chance to be named the official 2015 UD Lovebirds. First-, second- and third-place prizes will be awarded.
Keep an eye on the UD alumni Facebook page for details on how and when to enter and to vote for a winner: www.facebook.com/UDAlumni. Couples will be asked to post a photo of themselves directly on the page in early February, and all Blue Hens will vote for their favorites.
Participants can share a throwback picture, a recent picture, or a compilation of the two. Creativity and UD spirit are strongly encouraged. The photo that receives the most "likes" will be the winner of the top title.
Photos posted before the contest officially opens will be removed without notification.
"We look forward to seeing your submissions and hearing your stories," says Tricia Fitzgerald, director of alumni engagement.
The UD Office of Development and Alumni Relations creates a culture of connection within the Blue Hen community, fostering lifelong, mutually rewarding relationships. For more, and to find and connect with fellow alumni, visit www.UDconnection.com.
Reminisce, reflect with online yearbooks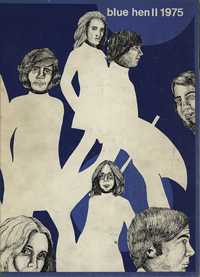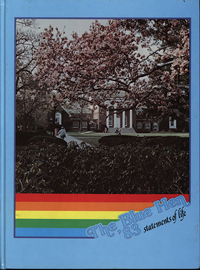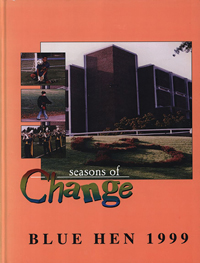 The University of Delaware Library has announced the completion of the digitization of UD yearbooks, all of which are now accessible online.
The yearbooks, published under varied names, were scanned at a high resolution and are full-text searchable. A user can search online for a specific name, word or topic in each yearbook.
From 1834-1859 and 1870-1921, the institution was named Delaware College. In 1921 it was renamed as the University of Delaware—an all-male institution. A separate Women's College of Delaware was founded in 1914, and the two merged to become a coeducational institution in 1945.
The two digital collections contain an electronic reproduction of every yearbook published for both Delaware College and the Women's College, as well as the University of Delaware.
Visit www.lib.udel.edu/digital and click on "Blue and Gold Yearbooks" for 17 volumes from the Women's College or "Blue Hen Yearbooks" for the collection encompassing 75 publications from Delaware College and UD.
The oldest yearbook, titled Aurora, dates to 1899 and was produced by Delaware College. The second yearbook was published four years later in 1903 with the title The Derelict. The University of Delaware yearbook was named the Blue Hen with its 1912 publication, and that title was retained until 1999, when it ceased publication. The yearbook of the Women's College was Blue and Gold, with the exception of the first yearbook in 1918, which was published under the title The Chronicle.
"I think that alumni of the University of Delaware will greatly appreciate the ability to view the online version of the yearbooks to identify wonderful memories and warm reflections of their time at the University," says Susan Brynteson, vice provost and May Morris Director of Libraries.
Regional Alumni Club Events
Baltimore Alumni Club

December, Symphony of Lights
January, Maryland Science Center
Lancaster Alumni Club

March 12 (with Philadelphia Alumni Club), Philadelphia Orchestra
Lehigh Valley Alumni Club

Jan. 14, Lehigh Valley Phantoms hockey game and social
New Castle County Alumni Club

Jan. 10, family bowling fun
Jan. 21, open board meeting
Feb. 14, Valentine's Day ice skating at Fred Rust Arena
New York City Alumni Club

December, Off-Broadway show
Dec. 10, open board meeting
January, bocce ball
February, New York Public Library tour
March, "An Evening of Conversations and Connections with New York Alumni"
Spring, New York Botanical Gardens tour and reception
Spring, river cruise
Philadelphia Alumni Club

February, communications networking event
February, Philadelphia Flyers reception and game
March 12 (with Lancaster Alumni Club), Philadelphia Orchestra
Pittsburgh Alumni Club

Dec. 7, Wigle Distillery tour
San Diego Blue Hen City

Jan. 13, all-alumni event with UD President Patrick Harker and College of Earth, Ocean, and Environment Dean Nancy Targett
South Florida Alumni Club

Dec. 7, Ravens at Dolphins, tailgate and game
Washington, D.C., Alumni Club

Dec. 11, annual holiday party
General alumni events at UD

Dec. 6, Breakfast with Santa
March 14, Easter Egg-Stravaganza
All alumni and their families are welcome to attend.
For details and to register for any club events, please visit www.UDconnection.com/clubs.