Coach Ross wins accolades for successful season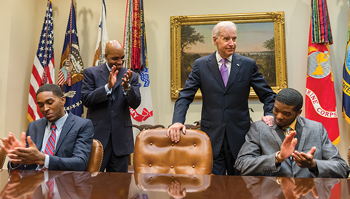 Photo by Evan Krape
SPORTS | Men's basketball head coach Monté Ross was named the fourth annual Clarence "Big House" Gaines Division I College Basketball Coach of the Year in April as the top minority coach in the nation.
Ross earned the prestigious award from the National Sportscasters and Sportswriters Association after leading the Blue Hens to 25 victories, the Colonial Athletic Association regular season and tournament titles, and a berth in the NCAA tournament during his eighth season at the helm in 2013-14.
Also named the 2014 CAA Coach of the Year, he guided Delaware to a 25-10 record as the Blue Hens tied for the second most wins in a season in school history.
UD won its first 11 league games, tying for the best start by any team in CAA history, and eventually finished 14-2 in the CAA, tied for the second most conference wins in school history.
The Blue Hens opened the calendar year with 13 consecutive wins, tied for the second longest streak in UD history, and at one point claimed 15 straight regular season CAA victories dating back to last season. Delaware won its eighth regular season conference title in school history, before securing its fifth league tournament championship and the first since 1999 with the dramatic 75-74 comeback win over William & Mary in the CAA tournament final.
Delaware then advanced to its fifth NCAA tournament appearance, battling fourth-seeded and 11th-ranked Michigan State before falling, 93-78, to the Spartans in a second-round game in Spokane, Washington.
Ross has now won 115 games during his Blue Hen career, the second most in Delaware history, behind only Steve Steinwedel, who had 163 victories.
Ross is a 1992 graduate of NCAA Division II Winston-Salem State, where he played for Gaines, a Basketball Hall of Fame member who compiled an 828-447 record during 47 seasons of coaching the Rams from 1946-93.
"It is truly an honor to be recognized for this award," Ross says. "The award holds more significance for me because 'Big House' was such an influential member of my life and provided guidance to me as both a player and a coach."
For all the latest UD athletic news, visit www.bluehens.com.