Foods, moods and healthy choices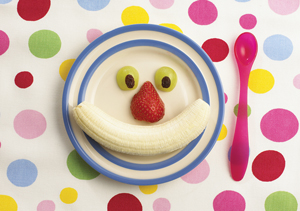 Thinkstock images
RESEARCH | Emotional eating is something with which we're all familiar. Maybe you're a student stressed about a big exam and you're munching on candy as you study. Or maybe your child's birthday party is coming up, and you've bought an ice cream cake to serve a small army to celebrate.
Recent studies have shown that negative moods and positive moods may actually lead to preferences for different kinds of foods. For example, given the choice between grapes or chocolate candies, someone in a good mood may be more inclined to choose the former while someone in a bad mood may be more likely to choose the latter.
But what if we could make better choices in any emotional state?
A forthcoming article by Meryl Gardner, UD associate professor of business administration, and research colleagues finds that there's more to stress eating than simply emotion and that, in fact, thinking about the future may help people make better food choices.
"We were interested in the 'why,'" Gardner says.
The researchers married the theories of affective regulation (how people react to their moods and emotions) and temporal construal (the perspective of time) to explain food choice. They conducted four laboratory experiments.
Gardner and her partners found that individuals in negative moods will still make food choices influenced by temporal construal, which supports the idea that trying to focus on something other than the present can reduce the consumption of indulgent foods.
"If people in a bad mood typically choose to eat foods that have an immediate, indulgent reward, it might be more effective to encourage what we call mood repair motivation, or calling their attention to more innocuous ways to enhance their mood," she says. "Instead of looking at nutrition and warning labels, try talking to friends or listening to music."
So the next time you go to grab a snack, think about the future—and you just might make a better food choice.
Article by Kathryn Meier, AS04, BE06M