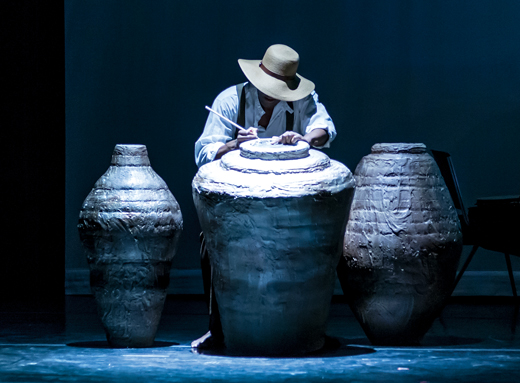 Photos of performance by Dan Dunlap photography
Poetry and Pottery
Researchers bring an untold story to life
RESEARCH | In the early to mid-1800s, when the man known as David Drake was enslaved in South Carolina, he suffered the loss of family members and friends who were sold at auctions and taken away.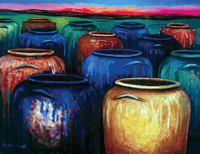 Today, the work that Drake, also known as Dave the Potter, created in clay and in words is sold at high-end auctions to collectors and cultural institutions that appreciate both his artistry and the original poetry he often inscribed on his pots. He is widely considered one of the most accomplished artisans of the antebellum period.
"Dave's creations are considered some of the most masterful pots of the 19th century," says P. Gabrielle Foreman, Ned Allen Professor of English and professor of Black American studies at UD. "They're now in collections at museums and galleries across the United States. … But this is a story that has gone mostly untold. Many, many people are unaware of Dave the Potter."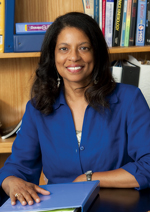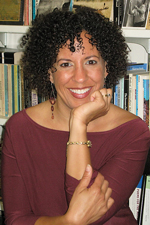 Foreman, Lynnette Overby, professor of theatre and then-director of the Undergraduate Research Program at UD, and additional colleagues set out to change that.
This past academic year, the life and accomplishments of Dave the Potter were brought to life in a unique collaboration among University faculty members and students, young people in the area and several noted artists who hail from Drake's South Carolina. The results, shared with scholars, schoolchildren and the general public, involve original poetry, a musical score and paintings, all used in an ambitious performance piece.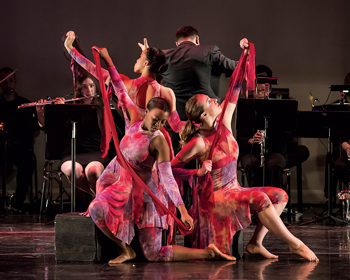 Photos of performance by Dan Dunlap photography
It all began a few years ago when Foreman and Overby collaborated on a project involving literature, dance, poetry and music, focused on the autobiographical book Our Nig: Sketches from the Life of a Free Black by Harriet E. Wilson.
Foreman had conducted extensive research on Wilson's book, the story of an abused indentured servant in the antebellum North who endures hardships to later find surprising success as a hair care entrepreneur and religious speaker. Overby worked with performers—including UD students and Glenis Redmond, a Kennedy Center performance poet from South Carolina—to choreograph and present a performance piece based on Foreman's research.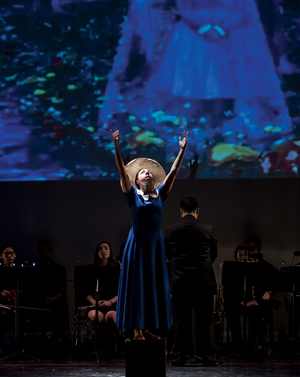 Photos of performance by Dan Dunlap photography
"I've always been interested in interdisciplinary work, and I wanted to do something on slave narratives," Overby says. "That led to the collaboration on Harriet Wilson, and then the Dave the Potter project evolved from there."
Although initially unfamiliar with Dave the Potter's story, "I like projects that demonstrate how the arts can be another way of telling a story and making it accessible to people who might not be reading scholarly work," she says.
After the Wilson project concluded, the team looked for another project, and Foreman suggested one of her current research subjects, David Drake. Drake often adorned his vessels with couplets and other short poems, as well as with his signature—something extremely rare in work by enslaved artisans, who were forbidden by law to read and write. The College of Arts and Sciences' Interdisciplinary Humanities Research Center supported the professors' proposal, "Dave the Potter's Couplet Pots: Dancing History and Dred Scott," specifically featuring pots created in 1857, the year of the infamous Dred Scott decision by the U.S. Supreme Court.

Redmond continued with the collaboration, writing a suite of poems, and Overby served as art director, choreographing and directing all aspects of the dance performances. After searching her professional contact list for someone to dance the role of Dave, Overby invited Towson University Prof. Vincent Thomas, who, it turned out, came from the very same community in South Carolina where Dave the Potter had lived and worked.
The end results were performances that also included paintings by Jonathan Green, a renowned South Carolina artist who produced a 1998 series of paintings about the life of David Drake; guest choreography by Teresa Emmons; a score by composer Ralph Russell; a poem by Foreman; a live orchestra directed by UD graduate student violinist Duo Shen and other student musicians; and presentations by performers from the University's dance minor and from Christina Cultural Arts Center and Cab Calloway School of the Arts, both in Wilmington. Undergraduate research scholar Audrey Wright also contributed to the project.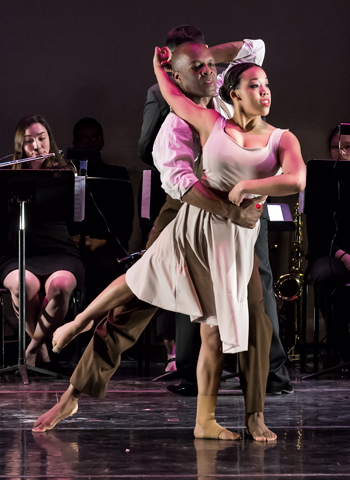 Photos of performance by Dan Dunlap photography
The piece has been performed on the UD campus and in the larger Delaware community as well as at the Council on Undergraduate Research national conference in June. Overby is developing educational materials and a website for students in secondary schools. In addition to her book The Art of DisMemory: Historicizing Slavery in Poetry, Performance and Material Culture, Foreman is editing a collected volume that includes Redmond's poetry and Green's artwork as well as an essay by Overby on the performance collaboration.
Foreman points to one of Drake's 1857 poems as the "emotional core" of the project:
I wonder where is all my relations
Friendship to all - and every nation
Overby has worked to engage the community in the project at every turn—a goal all the collaborators share.
"The creativity, ingenuity and will to survive and find voice was actively suppressed for millions of captive Africans in the Americas for four centuries," Foreman says. Though the collaborators chose to illuminate Drake's history because it relates unspeakable grief while also inspiring people of all ages and groups, Foreman adds that, "As a Black woman writing about Black subjects, I'm painfully aware that if we don't engage communities outside the academy, too few who share Dave's heritage will ever hear his story."
Ann Manser, AS73