The power for the bus goes round and round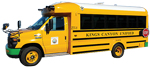 RESEARCH | Electric school buses that also feed the power grid could save school districts millions of dollars, while reducing children's exposure to diesel fumes, based on recent research by the College of Earth, Ocean, and Environment (CEOE).
A new study examines the cost effectiveness of electric school buses that discharge their batteries into the electrical grid when not in use and get paid for the service. The technology, called vehicle-to-grid (V2G), was pioneered at UD and is being tested with electric cars in a pilot project.
Adapting the system for school bus fleets is a logical application, researchers say. School buses generally travel distances within electric vehicles' battery range, and they are not in use for much of the day. Electric school buses also do not release sooty diesel exhaust, which contains pollutants that can cause respiratory irritation, lung cancer and heart disease. Such fumes can be higher inside the cabin of the bus than in the surrounding area.
For the study, researchers analyzed existing diesel school bus routes in a mid-sized suburban school district in Delaware and calculated the costs and benefits of V2G-capable electric bus replacements. Over 14 years, which is the typical lifespan of a bus, a V2G electric bus fleet could save an estimated $38 million.
"I was surprised," says CEOE doctoral student Lance Noel, lead author of the study that was published in the Aug. 1 issue of Applied Energy. "The savings go through the roof."