Leading the charge for cleaner vehicles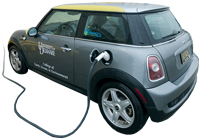 ON THE GREEN | Charging stations for electric vehicles will be strategically placed at key locations in Delaware to enable long trips in the state by next year, through a new collaborative research agreement between the University and the Delaware Department of Natural Resources and Environmental Control.
UD researchers are in the process of determining the most effective locations for charging stations, and they will assist in equipment installation and analyze station usage when the stations become operational. This new infrastructure will support greater use of electric vehicles, which do not release air pollution or carbon dioxide, unlike their gasoline-fueled counterparts.
"A well-planned electrical highway in Delaware makes it easier for drivers of electric cars both from Delaware and surrounding states to patronize Delaware tourist destinations—from nightlife on the [Wilmington] Riverfront to popular shopping districts to our beaches," says Nancy Targett, dean of the College of Earth, Ocean, and Environment. "Of course, environmentally, air pollution and the need for gasoline are reduced."
Two years ago, the federal government announced a national goal of 1 million electric vehicles on the roads by 2015. It also announced help to install charging stations, but the latter effort has been sporadic. For example, in the Mid-Atlantic region electric chargers are clustered within metropolitan areas like Philadelphia and Baltimore, but these are not well located for en-route charging, and most are incapable of fast charging.
Electric vehicle drivers in Delaware have access to only a few public charging stations. That does not pose a problem for a driver on a typical day—on average, Americans travel 30 miles per day and can charge at home in the evening—but longer trips require either battery recharging en route or a large and expensive long-distance battery.
Article by Teresa Messmore