Teachers. advisers at the head of the class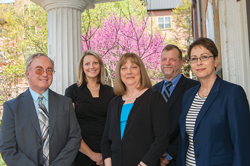 Photo by Ambre Alexander Payne
The 2014 Excellence in Teaching awards were presented to Dana S. Chatellier, education specialist and instructor in chemistry and biochemistry; Iris Busch, assistant professor of German in the Department of Foreign Languages and Literatures; Dannagal Goldthwaite Young, assistant professor of communication; Robert M. Dyer, associate professor of animal and food sciences; and Debra Gassner Dragone, instructor in accounting and management information systems.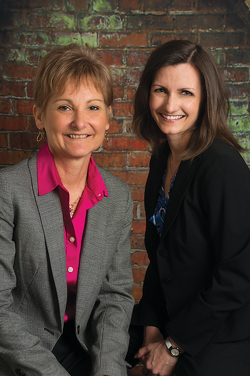 Photo by Kathy F. Atkinson
Chatellier, who teaches introductory chemistry classes to non-science majors, says he knows the subject can be intimidating. "My goal is to give my students as positive and enjoyable an experience as I can. … I want to leave my students hungry to learn more," he says.
Busch, who says that every student can learn a foreign language, urges teachers to be knowledgeable and passionate about their subject matter. "I want to create a learning community in my classroom where students are challenged and inspired and where their opinions matter," she says.
For Young, her classroom teaching "is driven by my firm belief that the concepts and theories obtained in my courses ought to help transform these young adults into critical and engaged citizens and leaders."
Dyer also strives to develop lifelong learners. "My long-term goal is to have students leave the University with a real love to learn and courage to explore," he says. "The objective is to create an unquenchable thirst for new knowledge within each student."
Dragone describes her teaching philosophy as aiming "to energize each student to want to come to class and enjoy learning the material. There is nothing that says we cannot enjoy the learning experience."
Recipients of this year's Excellence in Undergraduate Advising and Mentoring awards were Diane M. Rudolphi, instructor in nursing, and Laura Simmering Glass, assistant professor of education.
Rudolphi has found her students to be hard-working and dedicated, both academically and in public service. "Being an adviser and mentor requires patience and the ability to assess the student and guide them in a way that gives them the best chance of being successful," she says. "My goal is to make each one of my students the best nurse possible."
Glass, who coordinates the Elementary Teacher Education program, says her goal is to provide prospective teachers with the support and experience that will help them grow. "They are motivated and bright students who are eager to make a difference in the lives of children, and I hope that my guidance enables them to achieve their goal," she says.
Also honored at the end of the academic year were two teaching assistants who received Excellence in Teaching awards for graduate students: Yiben Wang, a doctoral student in the Department of Chemistry and Biochemistry, and Nadezda Anatolyevna Stepicheva, a doctoral student in the Department of Biological Sciences.
Article by Jerry Rhodes, AS04