High honors for top scholar, educator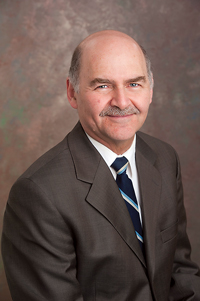 ON THE GREEN | Abraham Lenhoff, the Allan P. Colburn Professor of Chemical and Biomolecular Engineering whose research involving proteins has important potential applications in the treatment of human disease, has received the University's highest competitive faculty honor for 2014.
The Francis Alison Faculty Award was established by the Board of Trustees in 1978 to recognize the faculty members who best demonstrate the combination of scholarship and teaching exemplified by the Rev. Francis Alison, founder of the institution that is now UD.
Lenhoff, who joined the faculty in 1984, is internationally recognized for his expertise in applying the principles of thermodynamics, transport phenomena, biophysics and colloid science to protein separations and phase behavior, especially chromatography and crystallization.
He is the principal investigator on a multimillion-dollar Center of Biomedical Research Excellence (COBRE) program funded by the National Institutes of Health since 2000. The research focuses on membrane protein production and characterization, a field of growing importance in biomolecular engineering research. The project has brought together the efforts of many researchers on campus and is building the core facilities needed for membrane protein production, structural biology and bioimaging research at UD and the Delaware Biotechnology Institute.
"Bramie Lenhoff epitomizes the qualities of an Alison Professor—a world-class scholar, a dedicated teacher and mentor and a model University citizen," says Donald L. Sparks, S. Hallock du Pont Chair, director of the Delaware Environmental Institute and chair of the Francis Alison Society.
In 2009, Lenhoff received a UD Excellence in Teaching Award. Another measure of his educational impact is that many of his former students have become faculty members at top universities and leading engineers in the biotechnology industry. He is also credited with serving as a teaching and research mentor to many early-career faculty members.