Monitoring system keeps an eye on the sky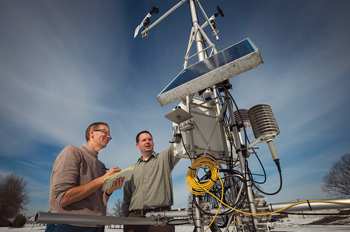 Photo by Kathy F. Atkinson
A decade ago, Delaware had only one reliable weather station delivering hourly conditions online. That meant emergency response decisions for the state's entire 2,500 square miles depended on reports from one spot, the New Castle County Airport.
"We really needed to have a better distribution of stations around the state," says Dan Leathers, professor of geography and Delaware's state climatologist.
Leathers and his colleagues set out with state support to build a more comprehensive network—the Delaware Environmental Observing System (DEOS), housed in UD's College of Earth, Ocean, and Environment—that is now the go-to place online for real-time weather conditions in the state.
This year marks the 10th anniversary of the first DEOS observation on Feb. 24, 2004, and the beginning of what is one of the densest state systems in the country with a total of 51 environmental sensing locations. From road crews to school administrators to news media, DEOS data proved particularly valuable last winter to snow-weary Delawareans.
While emergency management has always been a key function, applications have expanded to benefit the agricultural community and others. Now, Leathers says, the aim is to use DEOS data "to really make a difference in informing decision makers and solving environmental problems."