Students selected for prestigious international programs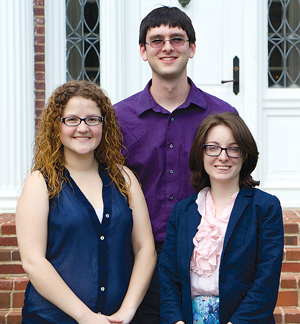 Photo by Elizabeth Adams
ON THE GREEN | Three UD students who graduated in May received competitive awards from U.S. State Department programs to fund international pursuits. Matthew Werth and Alyssa Hull were accepted to the 2014-15 Fulbright U.S. Student Program, the State Department's flagship international exchange, and Mackenzie Tyler was awarded a Critical Language Scholarship to study abroad for the summer.
Werth, who graduated with an honors degree in Chinese studies and a triple language major in French, Spanish and Portuguese, received a Fulbright English Teaching Assistant Program scholarship and will teach English in Yilan, Taiwan, for a year.
His passion for Chinese was first ignited because his two younger sisters were adopted from China. "I think cross-cultural communication is incredibly important, and you can't really understand a culture until you speak their language," he says.
Hull, who earned dual honors degrees with distinction in chemistry and art conservation, received a Fulbright Research Scholarship. She will be studying pigment change, including fading and degradation in master works and how to slow or stop the process, in Norway.
She has deferred enrollment in a chemistry doctoral program at Duke University until she returns from Norway. "I get really excited looking at data," Hull says. "When I am standing next to a painting I've always wanted to see, I am in awe."
Tyler, who earned a degree in criminal justice with minors in political science and sociology, received the language scholarship to study in Japan for two months after graduation. She has studied Japanese since her freshman year at UD and previously spent a month in Japan, but she says her passion for the language began when she was younger and enjoyed anime and manga.
After returning from Japan, she will pursue a master's degree in criminology at Temple University and hopes to one day work for the Department of State.