Off to the races
Once Stuart and Suzanne Grant got to know UD, there was no stopping them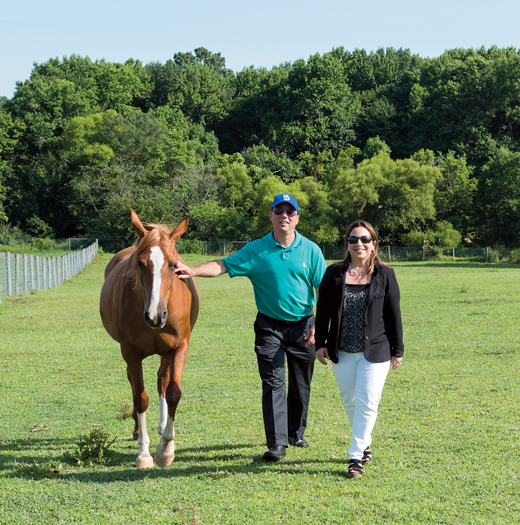 Photo by Evan Krape
ON THE GREEN | It was about midway through his second year of taking classes that Stuart Grant found himself hooked on UD.
He had started the pre-veterinary curriculum back in 2009, taking one course a semester and attending lectures as often as his schedule would allow. And as he chatted with Delaware Gov. Jack Markell in early 2011 about being back in school, he couldn't contain the excitement.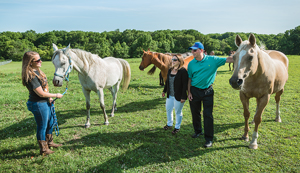 Photo by Evan Krape
"I love this place—the students, the faculty, the campus, all of it," he said. "I'd love to do more, help out, serve on the Board."
Markell was intrigued. "Would you really have time?"
"I'd make time."
Just two months later, Grant, a founding partner and managing director of one of Delaware's top corporate law firms, was testifying before the state Senate to be confirmed as a member of the Board of Trustees. He is now three years into his term, 10 semesters into his coursework—and as active and as engaged as ever.
"From the very beginning, I felt an obligation to learn more about UD," says Grant, who met with all of the deans and senior administrators in his first year. "And the more I learned, the more I wanted to do."
In 2013, he and his wife, Suzanne, made a $1 million gift to the College of Agriculture and Natural Resources to develop and support an Equine Studies Program, a fitting tribute for a couple who own a 2-year old thoroughbred named Harker. ("He's a distinguished gray like his namesake," jokes Grant, referring to UD President Pat Harker).
Since 2001, the couple has operated a horse breeding and racing enterprise that includes a training center in South Carolina and breeding farms in Kentucky and Maryland. When Stuart began taking classes at UD, he had one goal: "I wanted to understand the vets."
It's a mission he has accomplished. Boasting a 3.7 GPA, he can now discuss the hormones involved in horse reproduction or read a horse's mood just by looking at its ears.
"I understand the anatomy and speak the vocab," he says. "Seeing how immediately applicable this all is has made learning so much more fun."
The Grants' gift will create an equine studies minor in the Department of Animal and Food Sciences, providing funding for program development and new faculty hires. In addition to the minor, the Grants have also offered paid internships at their training center to UD students.
"When we believe in something, we commit to it," Suzanne says.
Indeed, their philanthropy speaks volumes. Even after investing $1 million to expand academic programming at UD, the Grants committed $1.5 million earlier this year to renovate the Delaware Mini Stadium. It is the largest single donation by an individual or couple to support a UD Athletics facility.
Improvements to the stadium will include upgrading and expanding the seating capacity to 1,400, as well as replacing the sound system and adding a press box. The facility, home to the men's and women's soccer teams and the women's outdoor track and field program, has been renamed the Stuart and Suzanne Grant Stadium in their honor.
"We love UD, and we're pretty serious about our soccer," Stuart Grant says. He refereed the 1982 and 1983 NCAA women's soccer championship tournaments and spent his 50th birthday in South Africa, watching the 2010 FIFA World Cup.
And although he "hung up the whistle" after graduating from New York University law school, Grant's love for soccer has not waned. He began coaching 35 years ago as an undergraduate at Brandeis University. It was there, outside of Boston, that he established the Waltham Girls Youth Soccer Program. Two of his players went on to become All-American in college. Some still coach to this day.
"I wanted to show them that soccer was a path to education and an opportunity to learn life lessons," Grant says. "And I see that same ethos here at UD."
He cites soccer coach Ian Hennessy, an All-American and two-time Big East conference MVP who holds a doctorate in molecular biology, as an inspiration for students on and off the field. Grant also commends Athletics Director Eric Ziady and President Harker for placing such strong emphasis on the student-athlete.
"We want students to be proud of where they are 10, 20 years from now," Grant says. "And when you look at the education and opportunities these kids are getting here at UD, you know they will be."
Article by Artika Casini, AS05