Goldwater Scholarships honor academic excellence
ON THE GREEN | Three UD students have earned 2014 Goldwater Scholarships, considered the premier undergraduate award of its kind and designed to encourage outstanding students to pursue careers in mathematics, the natural sciences and engineering.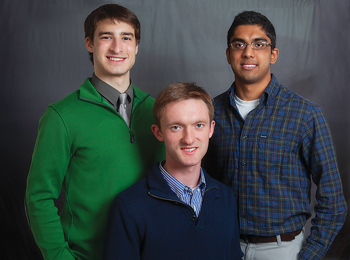 Photo by Ambre Alexander Payne
Daniel Charytonowicz, majoring in biomedical engineering and computer science, Benjamin Lefler, a chemistry major, and Adam Ramsaran, who is majoring in neuroscience, are among 283 Goldwater Scholars selected on the basis of academic merit from a field of more than 1,100 applicants nationwide. The Barry M. Goldwater Scholarship and Excellence in Education Foundation was established in 1986 to honor the late senator.
Charytonowicz plans to earn both an M.D. and a Ph.D. in biomedical engineering so that he can conduct research to expand the clinical capabilities of medical diagnostics technology. He has worked with psychology Prof. James Hoffman on research designed to understand the cognitive mechanisms of visual attention—in other words, how the brain collects, sorts and processes visual information.
Lefler plans to continue his education with a doctoral degree in inorganic chemistry, with goals of conducting research in solar energy conversion and teaching at the university level. Advised by Joel Rosenthal, assistant professor of chemistry and biochemistry, he has conducted research on the photochemistry of a type of molecule that could lead to more efficient solar cells.
Ramsaran plans to earn a Ph.D. in neuroscience and then teach at the university level, with research focusing on the neural mechanisms by which neurodevelopmental disorders affect cognition. Under the advisement of psychology Prof. Mark Stanton, he is conducting research involving spatial learning and memory during embryonic development, with a focus on fetal alcohol disorders.