Initiative will enhance national cybersecurity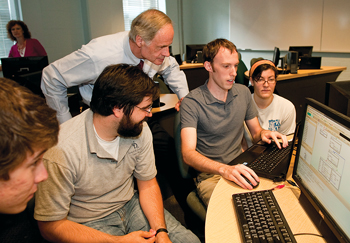 Photo by Doug Baker
ON THE GREEN | With a leading national expert on board as its founding director, the new UD Cybersecurity Initiative (UDCSI) is moving forward, with a special emphasis on issues facing corporate America.
Starnes E. Walker, a physicist with 35 years of leadership experience in research, development and engineering to enhance national security, took the helm of the initiative in April. Walker has held senior management positions in the federal departments of Defense, Energy and Homeland Security, as well as industry. He has developed critical programs and aligned strategic systems across the U.S. and around the globe.
A key focus of Walker's appointment at UDCSI will be corporate cybersecurity. According to a 2012 survey of more than 9,600 global business executives by PricewaterhouseCoopers, CIO and CSO, more than 41 percent of U.S. respondents had experienced one or more security incidents during the past year, ranging from financial losses to intellectual property theft.
"With Dr. Walker's appointment as founding director of our Cybersecurity Initiative, the University of Delaware gains exceptional expertise in an area of urgent concern," says University Provost Domenico Grasso. "Under Dr. Walker's leadership, UD will develop new partnerships to advance cybersecurity education and research and create prominent academic programs at the undergraduate and graduate levels, as well as certificate programs for corporate and government professionals."
Walker says the initiative will "help prepare the next generation of leaders who will protect the U.S. against cyber attacks," calling it "an all-around 'win'—for the University, for the state of Delaware, for the nation and for all of the businesses incorporated here and beyond, from the financial sector to the energy sector and, absolutely, for the public."
Defending the United States from cyber attacks requires highly trained specialists who can design secure computing systems, write secure computer code and create tools to protect, detect and recover from malicious acts, Walker says.
The United States has a serious cyber workforce shortage, with only 1,000 skilled specialists in the field when the nation needs as many as 30,000, according to James Gosler, founding director of the CIA's Clandestine Information Technology Office.
Cybersecurity is a top priority of the Senate Committee on Homeland Security and Governmental Affairs, which U.S. Sen. Tom Carper, from Delaware, chairs.
"Now more than ever, we need the best and brightest students to help secure our nation's cyberspace and to protect Americans," Carper says. "I applaud the University of Delaware for its leadership in establishing this new initiative and for appointing Starnes Walker, a national expert, to direct it."
Among his top goals for the initiative, Walker says, will be to develop problem-based and experiential learning programs and to develop cybersecurity activities in partnership with colleges and departments across campus and with corporations and government entities.