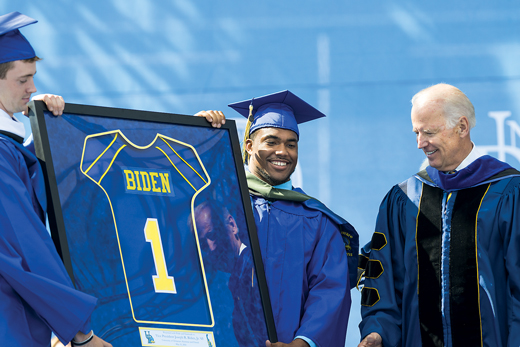 Photo by Evan Krape
Biden celebrates Commencement with fellow Blue Hens
ON THE GREEN | Graced by nearly picture-perfect weather, graduates and their families and friends celebrated the University's 165th Commencement on May 31, at Delaware Stadium.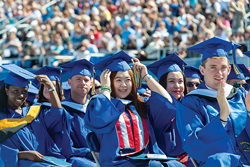 Photo by Evan Krape
Vice President Joe Biden, a 1965 alumnus, asked the new graduates to recognize the support given by their families and to give a round of applause for veterans graduating and for those about to enter into the U.S. armed forces.
Forgoing the offering of advice, Biden noted that no class ever gets to choose the world into which it graduates.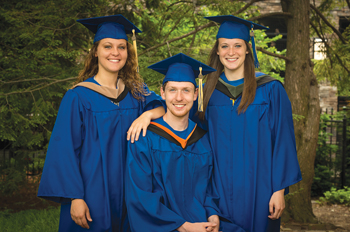 Photo by Kathy F. Atkinson
"When every class enters into the history of the nation, that history up to that point has been written by others," he said. "Once every couple of generations, a graduating class will enter a point in our history where they actually have a chance to change the trajectory of their country."
Because it is entering at such an "inflection point," the Class of 2014 has a chance to "grasp the situation and to bend history just a little bit," Biden said.
Recalling his own graduation and the "transformative moments" on the UD campus, he described a world characterized by a nuclear arms race with the former Soviet Union, a civil rights movement that was faced by increasing violence, and a generational gulf caused by differences over the Vietnam War.
"On Nov. 22, 1963, on a brilliant sunny day, I stood on the steps of Hullihen Hall and learned that President John F. Kennedy had just been assassinated," Biden said. "In the spring in which I graduated from law school, the only heroes I ever had in public life, Dr. [Martin Luther] King and Robert Kennedy, were murdered."
He also recalled how the war in Southeast Asia was still raging, and how his favorite town of Wilmington, Delaware, was in flames with National Guard troops stationed on every corner. It was at this time, he said, that several professors at UD helped to put the chaos that surrounded him into perspective.
"They not only taught me, they challenged me and helped me understand the change that was happening," Biden said. "Most importantly, they argued that it was in our power to fix America, because of the incredible foundation upon which this nation was built."
Biden noted that this perspective reinforced what his parents had taught him: that what Americans value the most is equity, fairness and justice, and that the nation will prevail even in times of turmoil from within and without.
"Now, it's your chance," he said. "You're graduating into a world that is changing just as profoundly. There are different dangers but also incredible possibilities, but you have significantly more tools."
In describing himself as "the White House optimist," Biden said this outlook is based on the trajectory of America and the incredible opportunity of the world into which the Class of 2014 is entering.
"Don't listen to the cynics, don't let them tell you our best days are behind us," he said. "We're just starting, and you are going to change the world for us. God bless all of you."
Also addressing the crowd, UD President Patrick Harker told the new graduates that the Blue Hen spirit would help keep them connected to their University for years to come.
"You will go on to do great things and you will continue to make us proud," Harker said. "For the achievements you have already accumulated and those that await you, let's have another round of applause for today's graduates."
He enjoined the graduates who grew up in the digital age to meet the challenge posed by smart machines with the human spirit of creativity and innovation. Rather than taking the machines head-on in areas where they already do things better, Harker recommended doing things that computers don't, through creative initiative and big-picture planning.
"People are still especially good at coming up with especially good ideas," he said. "We can recognize large-scale patterns and combine different sets of data in different ways to solve complex and persistent problems. … We can give back what we take from technology by teaching others the skills that can't be automated. We can strive to imbue in our colleagues the creativity and ingenuity that sets us apart from machines to propel our growth intellectually, professionally and spiritually."
Article by Jerry Rhodes, AS04
More about UD's 165th Commencement
• The University conferred 4,456 undergraduate and 1,108 graduate degrees.
• Ten graduating students earned their bachelor's degree with perfect grade point averages.
• The evening before Commencement, a doctoral hooding ceremony on The North Green celebrated the awarding of 195 new academic doctoral degrees.
• The University presented honorary doctoral degrees to Hans-Jörg Bullinger, president of Fraunhofer-Gesellschaft, one of Europe's largest applied research organizations and a partner with UD's Delaware Biotechnology Institute; Roberta F. Colman, UD professor of chemistry and biochemistry; Ellen Kullman, CEO of the DuPont Co.; and Myron T. Steele, former chief justice of Delaware, who retired in 2013.
Visit www.udel.edu/002241 for more Commencement information and photos.