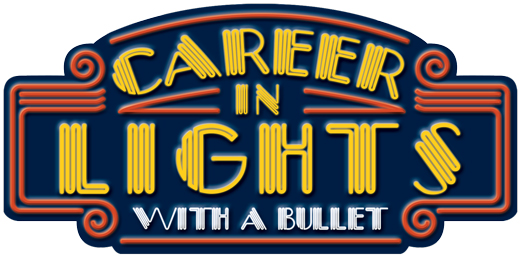 Before USA Today called her "the American woman who rescued the Broadway musical from mopey foreign interlopers," before Harper's Bazaar interviewed her as one of Broadway's most powerful women, before The New York Times said she "attracts Tony nominations the way cashmere draws moths," Susan Stroman was a Blue Hen.
"I loved growing up in Wilmington and being surrounded by family and friends, and I have very good memories of UD," says the 1976 theatre graduate, who also was awarded an honorary doctorate in 2005. "It is such an idyllic campus, and the people I met there gave me the strength to pursue my passion."
The five-time Tony Award-winning choreographer and director was a girl with visions of dancers gliding through her head anytime she heard music. Her earliest memories of dancing around the living room as her father played popular tunes are part of her legend. But those dancing visions—combined with the sense of optimism and joy that just seems to bubble out of her, plus an extra dose of chutzpah—have made her what Broadway's revered producer and director Hal Prince (winner of a record 21 Tony Awards) calls "a shiny person." Make that a successful person, too.
Her No. 1 piece of advice for those who would like to follow in her famous footsteps?
"Don't wait for the phone to ring. Make it happen. Stir it up." That's what "Stro," as Broadway insiders call her, has been doing all her life.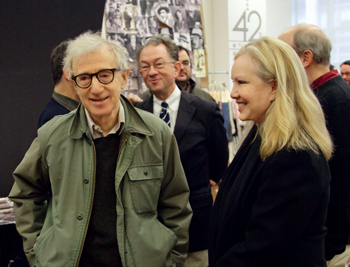 Photos of Susan Stroman by Paul Kolnik unless otherwise noted.
The summer before her senior year at UD, Stroman recently told The New Yorker, she and a friend drove a Cadillac Eldorado convertible across the country to deliver it to a local car company and to begin a house-sitting gig in San Francisco. When they started to run out of money, the idea of working at a burger joint never occurred to them. Instead, they approached street performers on Fisherman's Wharf about adding two blondes to their act and eventually found a one-man band willing to share the streetlight.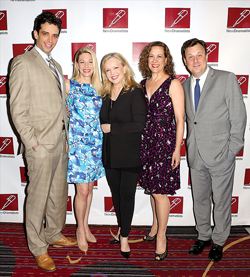 Photo copyright Walter McBride/Corbis / APImages
Stroman and her friend put together five tap routines to go with just about any song and were soon raking in about $80 a day dancing as the man played. They were so popular with tourists that sometimes police had to be called in to clear the sidewalks. Fans made up buttons with their pictures on them, and they landed an audience participation bit on The Tonight Show.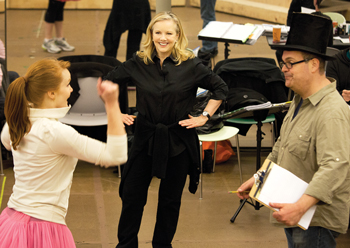 Not much later, at 22, Stroman was one of 300 dancers who auditioned for three spaces in a revival of the musical Hit the Deck. She got the part, moved to New York and never looked back.
Although her true calling was choreography and creating for the theatre, Stroman says, "I came to New York as a song and dance girl. I knew I couldn't just arrive and try to take over everything."
While she sang and danced and waited, she made occasional forays into choreography—a showcase at the Equity Library Theatre, industrial shows and, finally, in 1987, an off-Broadway revival of Flora the Red Menace, directed by her friend Scott Ellis and written by John Kander and Fred Ebb.
A few years later, drawing on that same optimism and chutzpah, Stroman and Ellis approached the now-famous Kander and Ebb about downsizing Flora and staging it as WPA Theatre from the 1930s. Later, the two had the idea of combining Kander and Ebb songs into a revue, a new production called The World Goes 'Round, which ran off-Broadway for more than 400 performances. It was another example of the Stroman approach: "Take a chance, ask the question, 'What's the worst thing that could happen?' and go for it."
Stroman's life after The World Goes 'Round took on an upward trajectory that included choreography for Hal Prince's Don Giovanni and Liza Minnelli's Stepping Out at Radio City. After that, Stroman signed on to choreograph Crazy for You a show that brought her her first Tony Award in 1992. It also led to love and her eventual marriage to the show's director, the late Mike Ockrent.
She won another Tony for choreography for Show Boat in 1995 and for Contact in 2000, a year in which she was also nominated for directing that show and for choreography and directing in The Music Man. In 1996, she was nominated again for choreography in Steel Pier.
The years 1998-2000 brought her the best and the worst of times. One evening in December 1998, the doorbell rang at the home Stroman and Ockrent shared, and in danced Mel Brooks, leaping up on their sofa—a showman at his best. Before the night was over, Ockrent had agreed to direct and Stroman had agreed to choreograph an adaptation of Brooks' movie The Producers for the Broadway stage. In the next year, the joy of collaborating on such a funny show was marred by Ockrent's diagnosis of leukemia. After eight months of remission, the disease came back suddenly with a vengeance in the fall of 1999, and he died in early December.
It took Brooks several months to convince a grieving Stroman to stay with the show as choreographer and to take over Ockrent's role as director. In 2001, The Producers won 12 Tony Awards, two of them Stroman's for choreography and directing. It was a production that brought her personal healing and helped audiences forget about the tragedy of 9/11 for a few hours each evening, Stroman has said, noting the "life force of the theatre."
In the years since 2001, Stroman has been nominated for a Tony Award for choreography for Oklahoma! and for choreography and directing of The Scottsboro Boys. This year she was nominated again for choreography for her most recent project, Bullets Over Broadway, which she also directed.
An adaptation of the Woody Allen movie by the same name, the show asked audiences to consider just how far they would go for art, as the show's male lead, played by Zach Braff of Scrubs fame, pondered having his show financed by a gangster, having the gangster's girlfriend play the lead and having a junior gangster rewrite his lines.
Allen approached Stroman about Bullets, and the show opened two years to the day after their initial meeting. She says the project interested her because of its theme as a backstage musical.
"All of Woody's work is very authentic, and it was important to him that the music come from the 1920s," she says. It was their combined ability to name and remember so many old songs that may have sealed the deal for him, she says.
Stroman's next project is the new musical Little Dancer, which opens at the Kennedy Center this fall. She will choreograph and direct.
The musical is inspired by the story of Marie von Goethem, a young ballerina who posed for Edgar Degas' statue "Little Dancer Age 14." The Kennedy Center production stars four-time Tony Award winner Boyd Gaines, three-time Tony Award nominee Rebecca Luker and New York City Ballet principal dancer Tiler Peck. The musical is being penned by the Tony Award-winning team of book and lyrics writer Lynn Ahrens and composer Stephen Flaherty (Ragtime, Rocky).
Again, it was the chance to tell a story that attracted Stroman to this production.
"I love what I do; I'm a storyteller and I love telling stories," she says. "In my business I am lucky because I get to tell a lot of really diverse stories. I never really think of the hoopla or awards, I just immerse myself in whatever story I am telling. My favorite project is always the one I am working on at the time."
Keeping the connection
Stroman has remained involved with the University throughout her career, serving as a Winter Commencement speaker, meeting with theatre students during a campus visit and hosting events for alumni and friends of UD in her New York City apartment.
When the Center for the Arts was under construction, she toured the site and made a major gift to support the project.
"My time here as a student was a wonderful time, and I love being here now," she said during that visit.
In 2005, UD presented her an honorary doctor of humane letters degree, calling her "one of musical theatre's greatest treasures."
Article by Beth Thomas