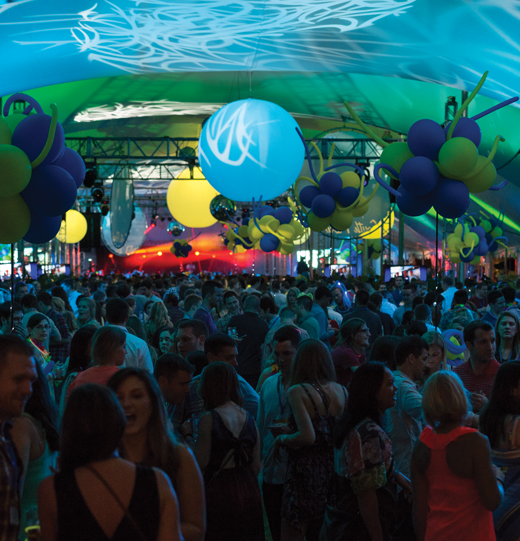 Photo by Evan Krape
Lasting Connections
Alumni celebrate the past with a commitment to UD's future
ALUMNI | There were those who hadn't been to campus in decades and those who never left.
There were members of the University of Delaware's newly minted Class of 2014 and "Gold Guard" graduates celebrating their 50-year anniversary—and alumni from every decade in between.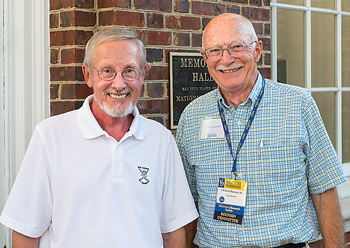 Photo by Evan Krape
Some made the five-minute walk from their Main Street apartments, while others carpooled or boarded buses—one couple even flew in from Puerto Rico—to come back.
From June 6-8, the University celebrated its sixth annual Alumni Weekend, and as any of the 5,000-plus Blue Hen attendees can attest, Newark was the only place to be.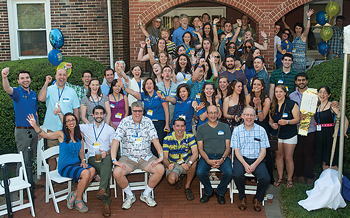 Photo by Duane Perry
Tim Dalby, EH99, 11M, and Mary Pinkston, AS91, EH95M, kicked off the weekend at the College of Education and Human Development's alumni reception. Both have received the Presidential Award for Excellence in Math and Science Teaching, the highest honor awarded by the U.S. government to K-12 STEM teachers, and both credit UD with an exceptional education.
"I was prepared as a 'highly qualified teacher' before that was even a term," said Dalby, referring to the federally designated title.
Photo by Duane Perry
He and Pinkston spent their Friday evening meeting former professors and classmates. "My heart bleeds blue and gold," Pinkston added. "Some of my best memories here are of the people."
Indeed, the weekend was rich in the diversity of UD's people—Blue Hens from different backgrounds, different ages, different experiences but all with one shared bond: time spent at their beloved alma mater.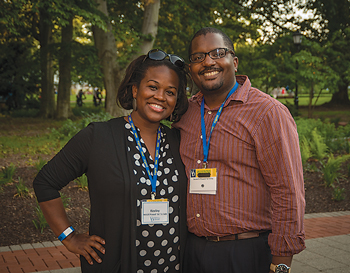 Photo by Kathy F. Atkinson
Alumni Weekend is a tradition for Lance Kaufmann, AS83. From Mug Night on Friday, to the Wall of Fame induction ceremony on Saturday, to the Sunday morning 5K race, the entire weekend serves as an opportunity for him to expand his Blue Hen circle. "Every year, I make new friends and new connections," he said.
Then there are alumni like Avi Amon, AS08, BE08, who comes back to reconnect with classmates and colleagues. "This is my favorite weekend of the year," he said, as he began his festivities at a reception for Honors Program alumni.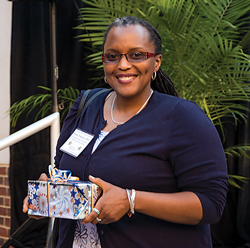 Photo by Kathy F. Atkinson
"This was my team," said Amon, who attended the University on a DuPont Scholarship and now makes gifts to support the Honors Program. "These were the people rooting for me, and I'm rooting for them, too."
It was a sentiment echoed throughout the weekend—attendees who celebrated the past but remain committed to UD's future.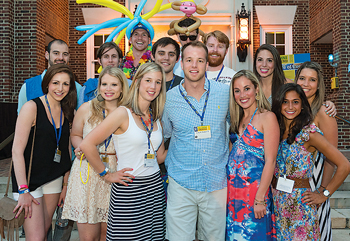 Photo by Evan Krape
Bob Parsons, AS64, for instance, is a member of the Delaware Diamonds Society, the University's leadership annual giving society. As a student, he worked for a local laundry, and today he calls that job his scholarship, allowing him to graduate debt free. "That," he said, "is a debt you pay forward."
As the weekend kicked off, Parsons sat on the side portico of Memorial Hall, waiting to reconnect with a former Kappa Alpha fraternity brother. The last time he had seen Terry Girdon, also AS64, was the night before Girdon flew to Asia to serve in the military. The two reunited for the first time in 50 years at Alumni Weekend.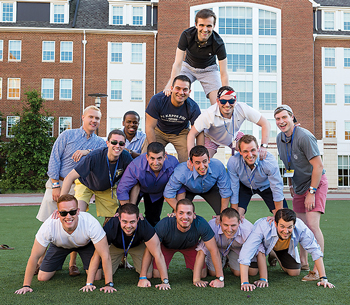 Photo by Kevin Quinlan
"It's wonderful to be back," said Girdon, who attended the College of Arts and Sciences reunion and President Patrick Harker's State of the University address. "So much has changed, but the KA house is still there!"
Other alumni with strong ties to Greek life commended the recent cultural shift by UD administrators to strengthen support for fraternities and sororities.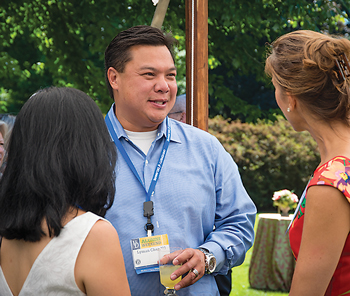 Photo by Kathy F. Atkinson
Lyman Chen, BE93, and his wife, Caroline, BE90, were both active in Greek organizations, and Lyman attributes his first job on Wall Street to his strong fraternity ties. Now, he works to partner UD's Lambda Chi Alpha alumni with current students.
It is that palpable gift back to UD—of time and talent and treasure—that helps propel the University forward, Harker said.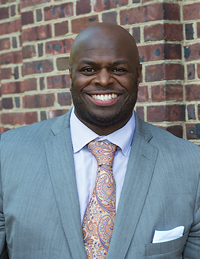 Photo by Lane McLaughlin
"This is a University operating from strength," he told the audience at his State of the University talk. "And with your support, we'll have everything we need, right here, to take UD from great to even greater: the people, the brilliance, the relationships and the will."
He began his presentation by welcoming the six reunion classes to the stage, along with "newly hatched" alumni from this year's class. Together the classes of 2014, 2009, 2004, 1999, 1994, 1989 and the newly inducted Gold Guard members of 1964 donated $1,082,370 to the University.
"We're good to UD because UD was so good to us," said William Gamgort, BE04, whose class increased total giving from the previous year by more than 51 percent. "Now that we're in positions to give, we want to give back."
Of course, that spirit is not limited to alumni. Jan Seitz calls her nine years as director for Cooperative Extension at UD "the most wonderful time of my life." She had long sought to establish an endowment to support the Extension Scholars Program in her estate plan.
"But then I woke up at 2:30 one morning and thought, 'Why not do it now?'" she said to a colleague at the President's Champagne Brunch (a new Alumni Weekend event to recognize leadership donors and supporters). "It's all about the feeling. And making this gift, supporting UD, being such a strong part of this community—it just feels awesome."
Article by Artika Casini, AS05