Wall of fame adds five outstanding alumni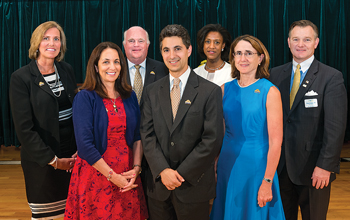 Photo by Evan Krape
ALUMNI | Five University graduates have been inducted into the Alumni Wall of Fame to honor their outstanding professional and public service accomplishments, in an annual ceremony held during Alumni Weekend in June.
This year's inductees are Anne M. Gaffney, AS82PhD, a specialty materials research and development leader at Invista; E. Thomas Harvey III, BE75, president of the commercial redevelopment firm Harvey, Hanna and Associates; Terri Connor Kelly, EG83, president and CEO of W.L. Gore and Associates; Claire M. Renzetti, AS77, 79M, 82PhD, professor of sociology at the University of Kentucky; and Leonard P. Stark, AS91, BE91, AS91M, U.S. District Court judge.
They were recognized at the ceremony by Monica Taylor, vice president for development and alumni relations, who praised the five for their successes and thanked them for their continuing involvement with their alma mater.
Anne M. Gaffney earned her doctorate in chemistry and then began a career in industry, taking on numerous roles from bench chemist to vice president of technology. She now leads research and development with specialty materials at Invista in Newark, Delaware, one of the world's largest companies specializing in integrating production of fibers, resin and intermediate materials.
She has received numerous professional honors, and several commercial technologies have resulted from her various inventions, including a new, environmentally favorable route to octane enhancers that received the 2009 American Chemical Society Green Chemistry Award.
E. Thomas Harvey III, who has been a leader in both business and philanthropic interests in Delaware for nearly four decades, is president of Harvey, Hanna and Associates, a commercial redevelopment firm that owns and manages more than 3 million square feet of industrial, commercial, retail and hospitality property throughout the Mid-Atlantic region.
After graduation, Harvey built, owned and managed multiple solid waste management and recycling companies for over 25 years. His operations offered the first recycling services in Delaware, thus forging a "green" and sustainable environmental future throughout the region.
Terri Connor Kelly received her bachelor's degree in mechanical engineering and soon joined W.L. Gore and Associates, where she now is president and CEO—a title she earned in 2005 after a peer-driven selection process. The company specializes in fluoropolymer-based materials that are utilized in a wide array of high-value products, including Gore-Tex fabric and medical devices.
Kelly gained her early experience as a product specialist with Gore's military fabrics business. Her leadership abilities have driven her success in a company known for its non-hierarchical "lattice" structure.
Claire M. Renzetti is the Judi Conway Patton Endowed Chair for Studies of Violence against Women and professor and chair of sociology at the University of Kentucky. Her teaching and research specialties are the sociology of gender; violence in intimate relationships; sociology of law and criminology; and marriage, families and intimate relationships.
Renzetti is the founding editor of the international, interdisciplinary journal Violence Against Women and is editor of the University of California Gender and Justice book series and co-editor of the Interpersonal Violence book series published by Oxford University Press.
Leonard P. Stark earned dual undergraduate degrees in political science and economics, as well as a master's degree in history, all in four years at UD. He is a judge of the U.S. District Court for the District of Delaware, appointed in 2010 by President Obama.
A Rhodes Scholar, Stark earned his doctorate from Oxford University and a law degree from Yale University. He was an assistant U.S. attorney for the District of Delaware and a U.S. magistrate judge for the District of Delaware before being appointed to the U.S. District Court.