Tapping the ocean
Nick Vrolijk, EO88M 92PhD
New tools to combat cancer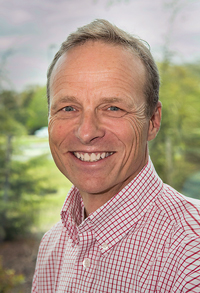 ALUMNI | Surgery. Chemotherapy. Radiation. These common weapons in the fight against cancer often result in remarkable outcomes—and serious side effects. While targeted therapies are making gains with a more focused approach, another new realm is also showing promise: immunotherapy.
The idea is to leverage the body's own immune system to counteract cancer's progression. Specific proteins stimulate the disease-fighting response, limiting broad-ranging impacts on healthy parts of the body.
"Immunotherapy is a very, very exciting area of pharmaceutical research and development right now," says Nick Vrolijk, EO88M, 92PhD, who serves as vice president of commercial manufacturing at Celldex Therapeutics in Hampton, New Jersey. "This is basically an approach that in theory should be very effective and should have significantly fewer toxic side effects."
Vrolijk, who earned his graduate degrees in marine biosciences from the College of Earth, Ocean, and Environment (CEOE), oversees the production of new medicines at Celldex. His research at UD focused on how fish enzymes metabolize chemicals—seemingly an ocean away from working on cancer drugs—but his interdisciplinary background combining chemistry and biology proved useful in transitioning to the pharmaceutical industry.
In fact, a key component of the cancer vaccine Rindopepimut, which Celldex hopes will gain FDA approval in a few years, comes from the ocean. Keyhole limpet hemocyanin (KLH), a protein derived from a marine snail, prompts an immune response to combat brain tumors.
"The drug is able to recruit an immune response to those cancer cells directly by means of conjugating a peptide to KLH that targets a mutant receptor protein on the tumor," Vrolijk says.
Tapping the sea for new medicines was part of what initially interested Vrolijk in studying marine biology. During an undergraduate semester at a marine lab in the U.S. Virgin Islands, he met CEOE Dean Nancy Targett, who was a professor at the time, and was intrigued by her work on understanding the chemistry behind marine organisms' ecological cues. Turns out, enzyme systems present in fish are analogous to drug metabolism in humans.
Vrolijk was able to apply chemistry lab techniques he acquired as a graduate student to medical research settings, learning technical operations and regulatory requirements related to drug development along the way. At previous positions, he worked on pharmaceuticals for growth disorders and facilitated the successful development and commercial launch of a non-Hodgkin lymphoma drug.
As he shepherds Celldex's first immunotherapy drug through the manufacturing and approval process, Vrolijk is hopeful about this next generation of cancer therapies. Immunotherapy may not replace chemotherapy, radiation and targeted therapies, he says, but it adds significantly to the arsenal of options.
Celldex has both targeted therapies, which work by zeroing in on a particular cell type or tissue, and immunotherapy products in the pipeline. One targeted therapy shows promise in treating triple negative breast cancer, which 10 to 15 percent of patients have, but for which there is currently no approved therapy. The antibody works by targeting a particular cell type that is also present in many other types of cancer, like melanoma and lung cancer.
"So we're looking at a range of different indications that have great potential," Vrolijk says.
Connections to alma mater remain strong
Transitioning from his marine biology beginnings to a successful career in pharmaceutical manufacturing, Vrolijk says he values the scientific foundation of his graduate education and has remained connected to the College of Earth, Ocean, and Environment in many ways.
His involvement has included serving on the Dean's Advisory Council; generously supporting the creation of a museum-quality exhibit on marine science and CEOE research for tours of the Hugh R. Sharp Campus in Lewes; and contributing to the acquisition of a new research vessel, the R/V Joanne Daiber, for use by faculty and students.
"Nick was an outstanding student who ... developed analytical skills that could be transferred to emerging fields," Targett says. "He most deservingly received UD's Presidential Citation for Outstanding Achievement in 2010, and we are proud and pleased that he gives back to the college in so many ways."
Article by Teresa Messmore