Bon voyages!
Special trips for Blue Hens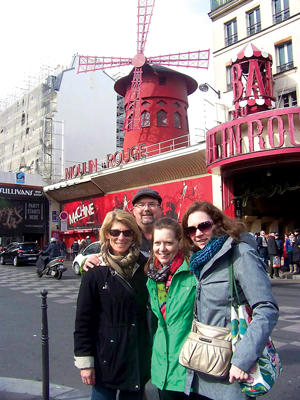 ALUMNI | The inaugural spring break 2014 trip to Paris sponsored by UD's Institute for Global Studies brought together alumni, faculty, staff and friends for what participants described as an unforgettable adventure.
And the adventures will continue with more trips in the future.
Due to an overwhelming response in applications for the initial offering, two different trips took place in March, accommodating more than 80 participants, ages 22 to 92.
The excursion commemorated a historic UD trip to Paris in 1923, which transformed international education as the first U.S. study-abroad program. Much like the eight students in that group, who sailed to France to spend their junior year abroad, this year's travelers immersed themselves in French history, culture, language and transportation.
"It was a blast," says Amy Johnson, deputy director of the Institute for Global Studies, who coordinated and led both trips.
Some participants, such as Allen and Karen Bloener, were used to sending their children abroad and decided it was their turn. Others, such as Dorothy Munroe—whose husband, the late John A. Munroe, was a noted authority on Delaware history and a highly regarded educator who spent over 60 years on the UD faculty—participated in the fun with family members.
Jim Flynn, assistant professor in the School of Public Policy and Administration, wrote to Johnson, "[We] thoroughly enjoyed our Paris adventure and are looking forward to other experiences with you and our new friends in the future."
Johnson, who has traveled to Paris seven times, largely for study abroad programs, says she found interesting similarities. "The purpose for this trip was to share the global view we have at the institute and inspire people," she says.
From the Catacombs beneath the city to the Metro system to the somber beaches at Normandy, participants say that Johnson's extensive knowledge of Paris gave them a much broader understanding of the city. While they engaged in "touristy" sightseeing and shopping, they also were able to visit spots frequented by the locals.
The culminating event of the trip was a farewell dinner at the Eiffel Tower, overlooking the City of Light.
Travelers gave the programs rave reviews and described Johnson as an "enthusiastic, fun, caring and fantastic leader."
One of the participants particularly appreciated the opportunity to engage with other alumni, who made up more than 60 percent of the group: "Thank you for organizing this program for UD folks! In addition to the fun time, it also gave us a chance to meet some other Delawareans, with UD in common, that will likely remain longtime friends."
Article by Elizabeth Adams, AS13
Alumni travel programs to expand
With the success of this year's spring break trips, more such excursions are being planned, including three trips to Europe during spring 2015. Groups will travel to Rome and Pompeii, Italy; Florence, Italy; and Paris, all in late March. Registration deadline is Oct. 1.
All programs leave from Philadelphia International Airport and include hotel accommodations with full breakfast and Internet access, an exclusive opening dinner, site-specific excursions, free time to explore on one's own and a celebratory closing dinner with the group.
As the Messenger went to press, the spring 2015 programs were filling quickly, but a summer trip to Peru was being planned, and additional programs will be offered in spring 2016.
For more information about itineraries, prices, registration and upcoming trips, visit www.udel.edu/global.