Travel agent
Shannon O'Neill, BE93
TV executive shows viewers the world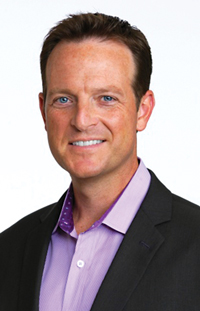 ALUMNI | When anyone hears about Shannon O'Neill's new job, the first thing they say, of course, is "Congratulations."
Then they always ask him the same question, and O'Neill, BE93, gives them the same answer: No, the president of Travel Channel doesn't spend his days lounging on a Bora Bora beach, exploring Tuscan wineries, eating live octopus from a Seoul street vendor or having any of the other adventures featured on the network.
"You get inspired by working here because you see all these great shows," he says. "But if you want to travel, you have to do it on your own time."
Still, O'Neill says he's thrilled to lead a network that reaches more than 96 million U.S. television households. It is owned by Scripps Networks Interactive, which also runs HGTV, Food Network and others. O'Neill, his wife and their 11-year-old daughter live in Bethesda, Md., near Travel Channel headquarters.
He landed the top spot in February after serving three years as the network's senior vice president and chief financial officer. Before that, he worked at Golf Channel, where he helped grow digital revenues tenfold.
It's a great career, O'Neill says, even though it isn't the one he envisioned when he started in UD's Honors Program as an engineering major in 1989.
He later switched to accounting and went to work at Ernst & Young after graduating in 1993. He stayed with the firm for six years, returning to UD several times to recruit fellow Blue Hens into the company.
In 1999, he and a high school friend launched a dot-com that compiled and delivered news and information to Wall Street customers. It folded after three years, and O'Neill found an auditing job at Comcast. He soon moved to the programming side of the business, where he helped launch the Sprout, TV One and FEARnet channels.
At Travel Channel, he has big plans.
One new show now in development follows a family moving from Vancouver, Canada, to a tiny, remote village in the Himalayas. In another show, called Breaking Borders, a chef and a former journalist travel to places of conflict—the pilot was shot in Israel and the Palestinian territories—to bring people on each side of the dispute together for a dinner made from ingredients common to both cultures.
The conversation "can get a little heated, but at the end of the night, they realize they care about the same things," O'Neill says.
Virtually all Travel Channel shows are done by third-party production companies, which is why O'Neill doesn't get to participate in the excursions. But, like the viewers, he can see nearly every place on the planet with the help of a knowledgeable and interesting guide.
"The most important thing is that human connection the host has with the people," O'Neill says. "Even though much of the world focuses on our differences, we have much more in common. And our best shows display that."
Article by Mike Chalmers