Fashioning a retail strategy
Johanna Murphy, AS92
Marketing in the digital age brings challenges, opportunities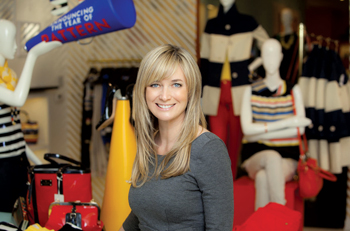 ALUMNI | Johanna Murphy, AS92, grew up wanting to be a scientist. Today, you won't find her in a room of chemists dressed in white lab coats and goggles. Instead, she works with some of the fashion industry's most prolific—and presumably well-dressed—names as chief marketing officer for Ivanka Trump's apparel and accessories line.
The marketing aficionado has leveraged a combination of creativity and business savvy to propel her career, leaving her mark on companies such as GSI Commerce (now eBay) and Kate Spade. In her newest role, Murphy has been tasked with bringing Ivanka Trump's wholesale business directly to consumers.
Murphy and her team are in the process of launching Trump's namesake line globally. With a brand defined, a business plan in place and a retail strategy, the goal is for customers to be able to purchase Trump's designs with ease.
If Murphy's track record is any indication, consumers are in for a few surprises.
When she ventured off to the University of Delaware, she was sure that chemistry was her calling. "I always excelled at math and science," she says.
But when she found herself struggling through the chemistry curriculum, one of her professors realized she possessed a secret weapon: She could write. Soon after, she switched to a political science major while simultaneously jumping into UD's journalism program.
After graduation and a few years of working for KYW-TV in Philadelphia, Murphy had another change of heart and began her foray into the marketing world.
"I really wanted to get into the business world," she says. "I realized that marketing allowed me to use both the right and left sides of my brain."
Her time spent at various technology and marketing companies on the East Coast during the dot-com boom equipped Murphy with a wealth of connections and intimate knowledge of marketing in the digital age. It was during her tenure at GSI Commerce (acquired by eBay in 2011) that she met fashion. She eventually became vice president of e-commerce, working with major fashion clients including Calvin Klein, Burberry, Aéropostale and her future employer, Kate Spade & Company.
As vice president of e-commerce at Kate Spade, Murphy led a team that pioneered the popular brand's renowned online engagement with an overhaul of the websites, social media strategy and email and mobile communications. Digital business nearly doubled.
"I was also on the team that launched the Kate Spade Saturday shopping windows," says Murphy, describing the groundbreaking 24-hour touch screen window-shops in Manhattan, where shoppers virtually order products on the street at the swipe of a finger. "The project got a lot of press, and that's how Ivanka found me."
Murphy's work illustrates an understanding that technology has significantly changed the retail experience.
"We're going to lead with digital, and then we'll have stores where it makes sense [to locate]," she says of Trump's line. It's a web-based approach designed to suit the lifestyle of the brand's target consumers.
"The brand is very much based around Ivanka," Murphy says. "She has a very big, very important job leading major deals at the Trump Organization. She also has a family and is a very dedicated wife and mother and is very active in the community."
It was during a dinner at Trump's apartment—the leadership team often convenes there for some off-site brainstorming—that Murphy gained some insight into the woman who "seems like she has it all."
Murphy came to a realization about Trump—"She actually works at all those aspects of her life"—and from this realization came the brand inspiration: Women who are working at life.
As marketing continues to evolve with technology, Murphy urges young Blue Hens pursuing marketing careers to grasp the integrated nature of the field.
"I would argue that there's no separation between digital content and marketing; it's all interconnected now," she says. "One of the strongest words of advice I can give is to fundamentally understand business. CMOs of the future will really understand the operation aspects of business and understand the customer."
Throughout her career, Murphy says, she has always taken the time to stop and savor the moments. "You have to take a step back and think of how lucky you are," she says, naming such experiences as getting to know Ivanka Trump on both a personal and professional level, working on a team with smart and talented women and appearing on Donald Trump's show, The Apprentice.
And, she says, "Going to the Game of Thrones premiere was really cool, too." z
Article by Kelley Bregenzer, AS12