In Chul Kim, AS88PhD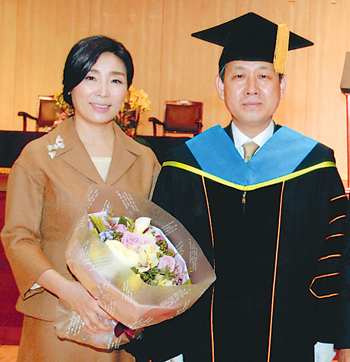 ALUMNI | In Chul Kim, who earned a doctorate in political science at UD, has been inaugurated as the 10th president of Hankuk University of Foreign Studies (HUFS) in Seoul, South Korea.
Previously the vice president of external affairs and development at HUFS, Kim succeeds Chul Park, who served as president from 2006–14. Before becoming vice president of external affairs, Kim was dean of academic affairs at the Seoul campus; dean of the Graduate School of Politics, Government and Communication; and dean of planning and coordination, as well as a professor in the Department of Public Administration.
Founded in 1954, HUFS enrolls more than 17,000 undergraduate and 4,000 graduate students on its Seoul and Yongin campuses, offering studies in 45 languages through 32 departments of foreign studies.
William W. Boyer, Charles Messick Professor Emeritus in the Department of Political Science and International Relations, who was Kim's mentor and dissertation committee chair at Delaware, represented UD President Patrick Harker at the inauguration ceremony and presented a Distinguished Alumni Award to Kim.
"His Ph.D. dissertation was judged the best dissertation in the social sciences, for which he was awarded the Ryden Prize," Boyer says. "Moreover, his dissertation was published as a book in Korea."