Hens hatch a flock of new businesses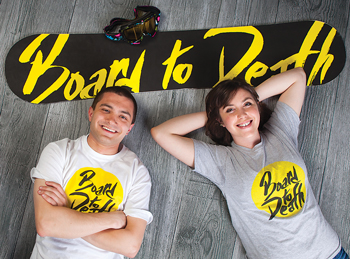 Photo by Ambre Alexander Payne
ALUMNI | From an academic tutoring service to custom-designed snowboards, students, faculty, staff and alumni pitched their entrepreneurial ideas to a panel of expert judges at Hen Hatch 2014, UD's premier business startup funding competition.
Although the annual competition is hosted by the Lerner College of Business and Economics' Horn Program in Entrepreneurship, participants represented a diverse mix of backgrounds, including entrepreneurship and technology innovation, finance, economics, visual communication and engineering.
After preliminary rounds to prove their entrepreneurial ideas worthy of recognition and funding, three teams in two tracks emerged as the winners of the final competition, held in late April.
Awards in the student track included $5,100 to ShopTutors, an online tutor booking platform, led by Nathaniel Matherson, Matt Lenhard and Nathaniel Taylor; $4,900 to Udwell, a comprehensive website for off-campus housing, led by Yael Bloom and Tali Cohen; and $3,500 to Board to Death, a company that builds and designs customized snowboards, led by Chris Melillo and Krista Adams.
Awards in the alumni, faculty and staff track included $8,500 to PenguinAds, an out-of-home advertising medium that uses the everyday commuter, led by Mac Nagaswami, BE13; $2,000 to Jaggery, an improved process for manufacturing the traditional Indian sweetener of the same name, led by Asmita and Anand Atre (see above article); and $1,800 to Grasshopper Solutions, an eHarmony.com for your career, led by Liz Brenner, BE98, Nicole McCabe and Deb Stambaugh.
Udwell also received special recognition and an additional $1,000 in prize money for being the audience's choice.
Judges for Hen Hatch were Neil Book, AS99, president and CEO, Jet Support Services; Brian Harvell, EG96, vice president, product engineering, SevOne; Jennie Horn, founder and chief creative officer, Second Base; John Petterson, AS82, senior vice president, operations, Tiffany & Co.; Mike Phelan, venture partner, Osage Venture Partners; and Mark Parsells, executive chairman and CEO, GDR Acquisitions Co.
The event also featured a keynote address by Phelan, as well as an entrepreneurial exhibition showcasing several student and alumni startups.