ALUMNI BULLETIN BOARD
From our Alumni Association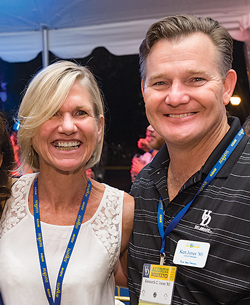 Photo by Evan Krape
Spring on UD's campus is a time for celebrations, many of which the Alumni Association is pleased to be a part of. Just days before graduation, a luncheon was held in honor of the 2014 recipients of the Emalea Pusey Warner and Alexander J. Taylor Sr. Awards for outstanding seniors, Brielle Gerry and Ryan Leonard. They led the alumni delegate procession at the Commencement ceremony, during which I had the distinct pleasure of leading the Class of 2014 through the annual alumni pinning ceremony.
It was an honor to have Vice President Joe Biden, a fellow Blue Hen, be a part of this year's ceremony celebrating our newest alumni. The Class of 2014 holds special meaning to the UDAA, as they were the guinea pigs for the class programs we initiated in 2010. Their class banner was proudly displayed in the stadium and became the backdrop for many photos after the ceremony.
Five outstanding alumni were honored over Alumni Weekend as the newest inductees of the Alumni Wall of Fame. You can read more about these alumni and their professional accomplishments and service to UD on page 56. This year marked the 30th anniversary of the Alumni Wall of Fame awards and the sixth Alumni Weekend celebration. It was a wonderful weekend of reconnection and fellowship with so many alumni coming back to campus and enthusiastically engaging with our University. We look forward to many more to come.
Since we believe that a Blue Hen's connection to UD is lifelong, we live by the motto "Blue Hens Forever." It's our hope that all alumni feel the same way.
Sincerely,
Kenneth C. Jones, BE80
President, UD Alumni Association
#BlueHensForever
What can you cross off your UD bucket list?

High five President Harker or the dean of your college

Have a picnic on the Green
High five President Harker or the dean of your college

Take a picture with YoUDee or Baby Blue

Volunteer with and organization or UDab (alternative spring break)

Do you have a bucket list of amazing things you want to do in your lifetime? Dropping out of a plane at 30,000 feet? Running a marathon? Seeing the Northern Lights? Returning to the University of Delaware for Alumni Weekend?
If you're a proud Blue Hen (current student or alumnus), the UD Bucket List was made especially for you. Created by the University's Student Alumni Ambassadors and Office of Alumni Relations, the UD Bucket List represents what it means to be a true Blue Hen. In honor of the University's founding year, 1743, there are 17 Gold activities (for seniors and alumni) and 43 Blue activities (for students).
The idea is to get as many of the Blue activities as possible completed while a student; the Gold items are specifically for senior year and beyond. Seniors and alumni are encouraged to participate in such campus traditions as attending senior fling or getting a picture outside their old residence hall. Current students can make the dean's list, eat at every dining hall on campus or share a kiss under the Kissing Arches.
"The UD Bucket List is composed of things that mean the most to our community," organizers say. "By creating it, we hope to bring Blue Hens of all ages together in making memories you will never forget."
Association honors outstanding new graduates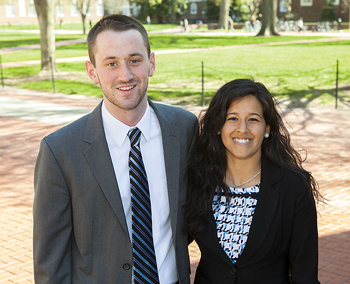 Photo by Ambre Alexander Payne
Brielle Gerry and Ryan Leonard received this year's Emalea Pusey Warner and Alexander J. Taylor Sr. awards, respectively, as outstanding members of the 2014 graduating class. The awards are given annually by the UD Alumni Association to recognize the senior woman and man who most exemplify leadership, academic success and community service.
Gerry was an Honors Program student and double major in neuroscience and Spanish studies with a minor in applied music in piano and biological sciences. President of the coed premedical fraternity Phi Delta Epsilon, Gerry helped rebuild the chapter by fundraising and increased member participation. She plans to attend medical school.
Leonard, a Charles L. Hebner Memorial Scholarship recipient, earned an Honors degree with majors in political science and history and a minor in Islamic studies with Arabic language. He was a Marshall Scholarship finalist, was selected as one of 63 Harry S. Truman Scholars nationwide and helped lead the revival of UD's Mock Trial Chapter. He plans to attend law school.
Homecoming: Calling all Hens back to the coop
The University will celebrate Homecoming 2014 with activities on campus from Oct. 12-18. The Student Homecoming Committee and the Office of Alumni Relations are planning a week filled with events for all Blue Hens to celebrate their UD spirit.
The Amazing Race will return for a second year, along with daily spirit stations, an alternative tailgate and the All-Alumni Goalpost Party. Affinity group receptions are scheduled throughout the week, and the Presidential Citation for Outstanding Achievement awards ceremony, honoring accomplished alumni who graduated in the last 20 years, will take place on Friday, Oct. 17.
Also Friday, a Homecoming pep rally will be held in the evening, and on Saturday, Oct. 18, a new Homecoming king and queen will be crowned while fans cheer the Blue Hens to victory in a match against Towson University. Kickoff in Delaware Stadium is at 3:30 p.m.
Any group planning to hold a Homecoming event should contact Michael Yancey, associate director of Homecoming and reunions, at myancey@udel.edu.
Visit www.udconnection.com/homecoming for more details, including football ticket and tailgating information.
Regional Alumni Club Events
Baltimore Alumni Club

Sept. 13, baseball, Yankees at Orioles
Lancaster Alumni Club

Sept. 27, historical walking tour
October, Hershey Pumpkin Glow
Lehigh Valley Alumni Club

Oct. 18, Homecoming bus trip, UD football game and tailgate
New Castle County Alumni Club

September, golf event at Delcastle Golf Course
Philadelphia Alumni Club

September, communications networking
Nov. 15, Dare to Care, Philabundance
Pittsburgh Alumni Club

Oct. 11, Phipps Conservatory tour and luncheon
Phoenix Blue Hen City

September, Phoenix Dare to Care
Reading (Pa.) Alumni Club

Oct. 25, fall hayride and S'mores roast
Dec. 7, Strasburg holiday train ride
Richmond Alumni Club

Oct. 25, bus trip to William and Mary football game
San Diego Blue Hen City

Sept. 17, baseball, Phillies at Padres
South Florida Alumni Club

Dec. 7, football, Ravens at Dolphins
For details and to register for any club events, please visit www.UDconnection.com/clubs.