Peter Bailey, AS03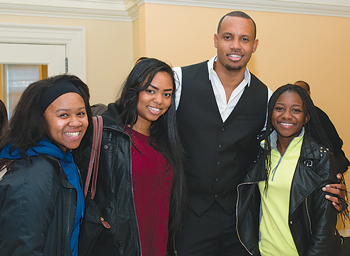 ALUMNI | A native of St. Thomas who came to UD to study journalism, Peter Bailey went on to work as a reporter, most recently at the Miami Herald, where he wrote the award-winning series of articles "On the Margins" and "Shackled Education."
Today, he has left print journalism and is busy creating his own independent multimedia enterprise, making use of such platforms as YouTube and Twitter to showcase his skills in interviewing and storytelling. He has created and hosts a documentary interview series, NiteCap With Peter Bailey, through NBC's Miami Channel 6.
"I always wanted to be my own self-sufficient media company, and I had a vision for NiteCap, where I would interview well-known people and show a different side of them," Bailey says. "At first it was hard, but now when celebrities are coming to the Miami area, they contact me about being on the show. We shoot on location and have very intimate conversations about things like spirituality."
Bailey, who in 2010 co-authored Magic City: Trials of a Native Son, the autobiography of Miami rap star Trick Daddy, says he is working on another book and would also like to do more public speaking. In March, he gave a talk at UD and met with journalism students.
He also recently began acting professionally, with a role in the new independent film The North Star, which is based on a true story of slavery, abolitionists and the Underground Railroad.