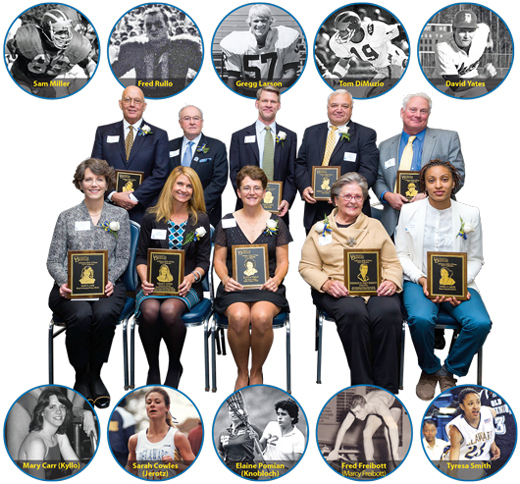 Photo by Kevin Quinlan
10 new members, 10 sports
New class inducted into UD Athletics Hall of Fame
SPORTS | Four former football standouts, five NCAA tournament competitors, conference champions in wrestling, swimming and track and field, a lacrosse pioneer and a longtime supporter of Blue Hen athletics highlight the new class of UD's Athletics Hall of Fame.
The Class of 2013 features six male and four female student-athletes representing every decade since the 1950s and the sports of men's and women's swimming and diving, football, baseball, women's basketball, wrestling, women's lacrosse, women's cross country and track and field, and men's track and field.
Following are the new inductees:
Mary Carr (now Kyllo), HS85, a key member of the outstanding Blue Hen women's swimming and diving teams in the early 1980s, was a four-year standout who specialized in the butterfly and individual medley events.
Carr held five school records at one point and captured five East Coast Conference titles. She earned All-American honors in four events at the 1981 Association of Intercollegiate Athletics for Women championships and was a member of the Blue Hens' national championship 200 freestyle relay team that same year.
Sarah Cowles (Jerotz), HS97, was one of the top women distance runners in University history, capturing five conference titles and named the team's Most Valuable Player four times.
She earned 10 letters in her career, including four in outdoor track and three each in indoor track and cross country, and is the only women's cross country runner in school history to win the conference meet twice, capturing the America East individual title in both 1996 and 1997. Cowles held four school records upon graduation.
Tom DiMuzio, AS71, was one of the all-time great quarterbacks in Delaware football history.
DiMuzio earned second team All-American honors and All-East laurels in 1969 when he threw for a school record 2,179 yards and 24 touchdowns in leading the Blue Hens to the Middle Atlantic Conference title. As a three-year starter in 1967-69, he led the team to a combined record of 19-12, threw for a school-record 3,756 yards and 36 touchdowns and led the team to two MAC titles and two Lambert Cup trophies.
Fred Freibott, HS59, a four-year varsity letter winner in swimming, enjoyed a record-breaking career. He died in 2011, and his award was accepted by his wife, Marcy. He set nine school freshman records in 1953 and then led the Blue Hens to the Middle Atlantic Conference team title in 1954, setting seven more school records. After serving two years with the Army in Korea, he returned to UD and competed for three more seasons, winning the 50 and 100 freestyle competitions at the Eastern Collegiate Swimming Championship regionals in 1957.
Gregg Larson, AG81, a two-sport standout, played three years for the Delaware football team and also was a conference champion in wrestling.
He earned five letters at UD, was a member of teams that posted a combined record of 49-14 and competed in NCAA tournament action in both sports. Competing in the 190-pound class in wrestling, Larson had a perfect 25-0 regular season record. Playing defensive end in football, he led the Hens to a three-year record of 31-7 and helped the team capture the NCAA Division II national title in 1979.
Sam Miller, AS76, a dominating defensive lineman in football, was a fixture as an All-American defensive end for the Blue Hens in the mid-1970s and led the squad to two NCAA tournament appearances.
Miller earned All-American notice four times, All-East honors three straight years and remains the only down lineman in UD history to lead the squad in tackles for an entire season. He graduated as Delaware's leading career tackler with 285 and still ranks No. 2 all-time among players who spent their entire careers as linemen.
Elaine Pomian (Knobloch), EG82, who earned four letters in lacrosse and two in field hockey, played a key role for the Blue Hen lacrosse team during its runs to national titles in 1981 and 1982.
A four-year standout in lacrosse, Pomian was a high-scoring attack who set school records for assists and still ranks among Delaware's all-time leaders in career goals (118) and points (195). As a field hockey goalkeeper in 1980-81, she logged a school record 213 saves in two seasons.
Fred Rullo, AS63, has been an integral part of Blue Hen athletics as a student-athlete, fan and contributor since he first arrived on the UD campus.
Rullo earned four letters as a two-sport performer in football and baseball. A backup quarterback and punter for Blue Hen football teams in 1961-62, he helped the 1962 squad post a 7-2 record, capture the Middle Atlantic Conference and earn the Lambert Cup Trophy as the top team in the East. On the baseball diamond, he was a catcher on two Blue Hen teams that posted a combined record of 32-17 in 1962-63.
Since his graduation, Rullo has played a pivotal role in numerous athletics development campaigns. Rullo Stadium, the home of the UD field hockey squad since 1998, is named in his honor.
Tyresa Smith, HS07, was a phenomenal athlete who worked tirelessly to become a complete all-around basketball player during her four years with the Delaware women's squad in 2003-07.
Smith was an outstanding defender and a consistently high scorer who used her slashing moves and deadly medium-range jump shot to pile up 1,635 points, finishing her career ranked No. 2 on the all-time UD list. She was a first-team All-CAA selection twice and became the first Delaware player to be selected in the WNBA draft.
Dave Yates, BE71, HS76M, a three-year starter at second base, was one of the stars of the 1970 Blue Hen baseball squad that went 22-6, captured the Middle Atlantic Conference title, won the NCAA District II championship and became the only UD squad to compete at the College World Series.
Yates led the Blue Hens to a three-year mark of 52-23 and graduated holding 12 school records. He led the team with a .444 average in 1969.
For all the latest UD athletic news, visit www.bluehens.com.