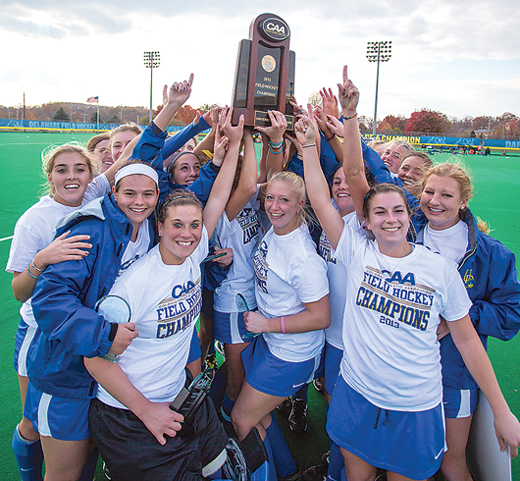 Photo by Mark Campbell
Field hockey wins conference championship
SPORTS | The field hockey team won the CAA championship last season, moving on to the NCAA tournament and hosting the tournament play-in game Nov. 13 at Rullo Stadium.
Delaware topped Liberty University 1-0 in that opening round of the NCAA Division I championship tournament. With the win, the Hens reached a 17-4 record on the season, setting a new single-season win record. Liberty, champions of the NorPac Field Hockey Conference, finished their season 17-5.
The victory advanced the No. 14 Hens to face the No. 3-seeded University of North Carolina Chapel Hill in a game there. Delaware at first held its own in that game, but a two-minute span deflated the Blue Hens in a 6-2 loss to bring their successful season to a close.
UD's trip to the NCAA tournament was its first since 2009. In winning the CAA championship, Delaware tied the single-season win record with 16 victories, a mark that had not been reached since the 1988 season.
Delaware also boasted the CAA Co-Coach of the Year in Rolf van de Kerkhof and Player and Rookie of the Year in Esmee Peet.
"I'd like to congratulate Delaware field hockey on a great season, and it is the first of many to come," van de Kerkhof said. "With that, we have to continue to build our foundation for a brighter future for our program. I am excited for the returning players to continue to build from our learning and a joyful 2013 season."
For all the latest UD athletic news, visit www.bluehens.com.