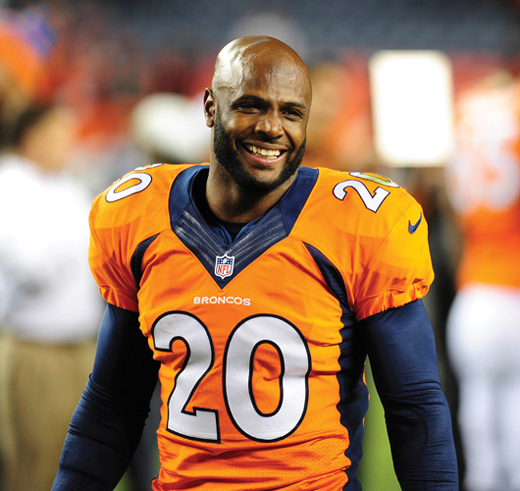 Another Hen tackles the Super Bowl
SPORTS | Former Blue Hen football player Mike "Pops" Adams, EH04, made his first Super Bowl appearance this year after the 10-year National Football League veteran safety helped lead the Denver Broncos to the AFC championship.
Although Super Bowl XLVIII didn't go the Broncos' way, as they lost to the Seattle Seahawks in a 43-8 rout, Adams recorded six tackles on the day. Earlier, he had attracted media and fan attention by promising that if Denver won the game, he would walk the 10 miles home from the game at MetLife Stadium to his native Paterson, N.J.
Adams has enjoyed a solid NFL career since signing as a free agent with the San Francisco 49ers in 2004. He played for the 49ers for three seasons (2004-06) and with the Cleveland Browns for five seasons (2007-11) before joining the Broncos prior to the 2012 season. He also led the Broncos to a berth in the AFC semifinals in 2012.
During the 2013 regular season, Adams appeared in all 16 games with seven starts and ranked fifth on the squad with 64 tackles.
While at Delaware, he was a four-year letter winner and three-year starter who served as co-captain of the 2003 Delaware team that went 15-1 and captured the NCAA Division I Football Championship Subdivision national title his senior year.
Adams was the sixth former Blue Hen to appear in a Super Bowl, joining defensive back Ivory Sully (playing for the Los Angeles Rams in 1980), quarterback Rich Gannon (Oakland Raiders, 2003), tight end Ben Patrick (Arizona Cardinals, 2009) and last year's Baltimore Ravens' pair of quarterback Joe Flacco and center Gino Gradkowski.
In addition, former Blue Hens wide receiver Jamin Elliott was a member of the practice squad for New England and earned a championship ring when the Patriots won Super Bowl XXXVII over the Carolina Panthers in 2004.
For all the latest UD athletic news, visit www.bluehens.com.