Eco-friendly plastic? Fantastic!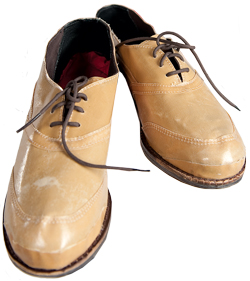 Photo by Evan Krape
RESEARCH | Richard Wool, who has used such natural materials as plant oil and chicken feathers to create new, eco-friendly composites, has received the Presidential Green Chemistry Challenge Award from the federal Environmental Protection Agency.
The professor of chemical and biomolecular engineering and director of UD's Affordable Composites from Renewable Resources (ACRES) program is a world leader in developing safer chemical substances from renewable resources. He uses processes that require less water and energy, and produce less hazardous waste, than petroleum-based processes.
The products can be used as adhesives, composites and foams—and even in circuit boards, leather substitutes and hurricane-resistant, energy-efficient roofs.
"Finding low-toxicity replacements for commodity plastics … must be a priority if we are to benefit the environment and human health," Wool says.
He became passionate about sustainability in the early 1990s and began to incorporate green chemistry and green engineering solutions into his research. He created several high-performance materials using bio-based feedstocks, including vegetable oils, lignin, chicken feathers and flax. In 2012, Dixie Chemical began producing Wool's bio-based composite resins for a worldwide market.
His discoveries have led to the development of soy-based composites used in boats, tractor panels and wind turbine parts. One of Wool's more recent inventions is a breathable, bio-based eco-leather that avoids the traditional leather tanning process.
"Ten years ago, green chemistry and engineering was a novel concept, but today, we are reaching a critical mass of individuals focused on sustainability and the environment," Wool says.