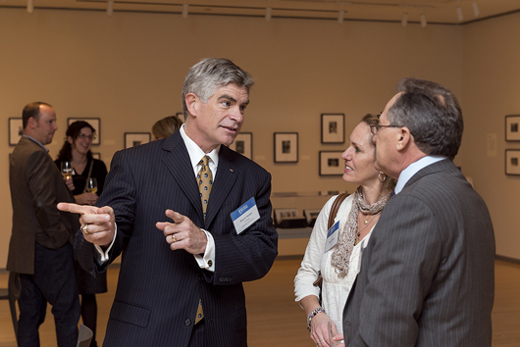 From Our President
It's been a busy and invigorating few months, as I've been traveling around the country and sharing the good news of UD with alumni and friends.
I've always said that Blue Hens are the most interesting people I know, and you continue to prove me right. In the photo above, I'm talking with Renee and Steven Pfefer, the parents of Sara Pfefer, AS15. We were at a terrific event in New York City, hosted by the NYC Alumni Club and the Friends of Art History. Held at the International Center of Photography, the reception was a wonderful celebration of art, art history and the humanities at UD.
I hope to be traveling a lot more in the coming months and years, connecting with Blue Hens who have an abiding affection for UD—alumni who consider the University not merely a part of their past, but also a vital and enriching part of their present and their future.
I'll see you soon.
Sincerely,
Patrick T. Harker
President, University of Delaware